WEISS NR
Rotary servo ring indexing table
Freely programmable with servo drive
Permissible torque on ring 10.000 Nm
Mass of inertia up to 20.000 kgm²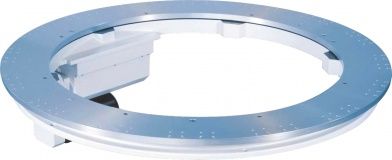 ---
WEISS NR rotary ring indexing table is an freely programmable indexing table with brushless AC servo motor drive. Custom specified motor drives are possible. The NR freely programmable rotary table offers a high level of torque and high precision postioning. The rotating aluminium ring can be adjusted to your specifications in terms of diameter and thickness.
Characteristics WEISS NR rotary ring indexing table
Characterized by extremely large centre hole
High indexing precision due to locking near to outside diameter
4 sizes rotary indexing rings: NR750, NR1100, NR1500 and NR2200
Vertical force on the locked ring up to 15,000 N
Radial force acting on the locked ring up to 30,000 N
Tilting moment acting on the locked ring up to 4,500 Nm
Up to 10 drive programmes can be stored
Advantages WEISS NC indexing table
Ring-shaped rotary indexing table with extremely large central opening (bore of up to 1750 mm possible)
High level of parts accuracy due to drive being positioned far toward the outside
Highly dynamic with smooth acceleration
Connection of different motor brands possible
Flat, compact design
Fixed speed TR version also available
Excellent price-performance ratio
Absolute measuring system
WEISS Application Software
In combination with WEISS Apllication Software (WAS) a fast and set-up and smooth operation is assured.
Communication WAS
Ethernet
Profibus DP
Digitale I/O (24V inputs and outputs)
CANopen
Open ASCII protocol