Stöber PH-ME
servo gear
Planetary gearbox – precision series
Rated torque to 5000 Nm
4:1 – 100:1 / 1 – 4 arcmin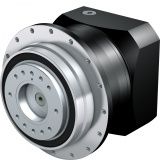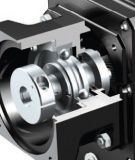 ---
Axial planetary gearboxes with flange output shaft and with helical gearing. For servo drives with high specifications set for reliability, torsional and tilting rigidity.
7 sizes (PH3 to PH10).
Accelerating torques of 50 to 7,500 Nm.
Gear ratios from i = 5 to 100 (up to PH9=8) or from i = 9 to 10 (PH9 and PH10).
Backlash smaller than 3 arcmin.
Optional ServoStop: with a in the motor adapter integrated fail-safe brake.
The planetary gearbox can be supplied with a motor adapter and backlash-free EasyAdapt® coupling, suitable for every type servo motor. This coupling compensates thermal expansion of the motor. In addition, the gearboxes can be executed with a drive shaft.
The Power Line planetary gearbox is characterized by the output shaft executed as flange (according to IAO 9409) (PH3-PH8). Through the helical gearing and construction, the gearbox has high torsional and tilting rigidity, high accuracy and runs extremely quiet.