Tandler PSK2 FS
Planetary gearbox with spiral bevel gearbox
Planetary spiral bevel gearbox
Torque up to 2.050 Nm
Ratios i = n1:n2 = 3:1 to 60:1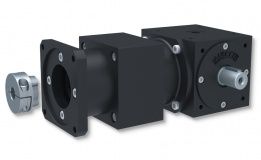 ---
The Tandler PSK2 FS is a combination of planetary gearbox with bevel gearbox, where the bevel gearbox functions as output shaft. Suitable for every type servo motor.
Features Tandler PSK2 FS planetary spiral bevel gearbox
9 sizes PSK2 FS: 00, 0Z, 01, 0A, A1, AB, B1, BC, BD.
Gear ratio's (axis d1 ingoing) i = n1:n2 = 3:1 to 60:1
Multi-stage gearboxes: ratio's possible up to 10.000:1
Permissible torque up to 2,050 Nm.
Input speed 3000 min-1 (4500 to 6000 min-1 on request).
Inbound shaft diameter (motor side) up to 55 mm.
Hollow or solid outgoing shaft.
Backlash Tandler PSK2 FS planetary spiral bevel gearbox
Single stage: Standard 6' (arc minutes); Reduced backlash 3'
Single stage: Standard 8' (arc minutes); Reduced backlash 4'
High precision and long life span

Tandler produces the planetairy spiral bevel gearboxes with highest precision and maximum service life for mechanical engineering. Highest quality planetairy spiral bevel gearbox thanks to the highest gear tooth quality. All products are subject to inspection during all phases of the product process and are carefully checked again before delivery. Read about it in Rico's blog.

Support with selection planetairy spiral bevel gearbox

We will calculate and select the best planetairy spiral bevel gearbox for your application according to your specifications and requirements.

Client-specific requirements

Tandler offers an almost unlimited variety of planetairy gearbox combinations and variatorions, gearboxes with customesed features and special gearboxes to meet your requirements.

From one up to three additional shafts, you will find the perfect solution:

Numerous special options available, such as reinforced bearings or cooling for operation at high temperatures
Versions for special requirements such as ATEX or for use in the food industry
Various corrosion resistant finishes: aluminium, stainless steel, painting or Tenifer 30 NO treatment