Stöber C-ME
servo gear
Helical servo gearbox
Rated torque to 7000 Nm
6:1 – 200:1 / 10 - 20 arcmin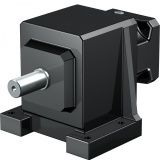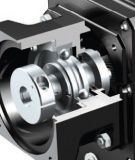 ---
Helical gearboxes with many housing styles to match almost any mounting requirement. Closed block design and high-quality helical gearing ensure unrivalled quiet running and backlash stability.
10 gear sizes (C0 to C9).
Accelerating torques of 21 to 7,211 Nm.
Gear ratios from i = 2 to 280.
Backlash smaller than 10 - 20 arcmin.
The gearbox comes with a modulair square flange (ME) and backlash-free EasyAdapt coupling for mounting to servo motors. The gearboxex are also available with a circular flange (MR) for IEC motors or with a drive shaft (AW).
Gear sizes C0 to C5 are lifetime lubricated under normal operating conditions.