Exlar Tritex T2X
Linear servo actuator
Integrated servo drive 230Vac
Continuous force up to 14,3 kN
450 mm stroke - 953 mm/s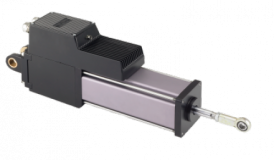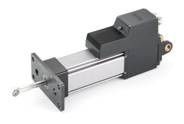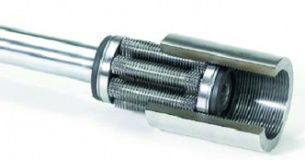 ---
Compact electric 230 Vac actuators with peak forces up to 32 kN. Existing of a linear roller screw transmission in an AC powered servo drive, with digital position controller, brushless motor and linear actuator in one sealed package. Direct connection to 240 V power.
Incorporate a fully electronic solution in the space of your existing hydraulic or pneumatic cylinder or eliminate troublesome ball screw actuators.
3 sizes (75, 90 en 115 mm).
Power: 1 x 230 Vac (100-240 Vac), including filter.
Max. speed: 950 mm/s.
Max. force 16 kN continuous, 32 kN peak.
Stroke lengths up to 450 mm.
Hall effect, incemental encoder or absolute position feedback.
Easy to control software tool including:
programmeerbare I/O's
homing
jogging
teachmode
proportional control with analog input
Protection class IP54 or IP65.
RS485 (Modbus RTU) for programming and monitoring.
Available bus systems:
Modbus TCP
Ethernet IP
CANopen
Profinet I/O
LED displays.
8 digital inputs
4 digital outputs
1 analog input (+/- 10V)
1 analog output (0-10V or +10V/-10V)
Optional analog in-/output 4-20 mA