Tandler HYP FS2
Hypoid gearbox
Hypoid gearbox
Torque up to 2118 Nm
Ratios i = n1:n2 = 5:1 up to 15:1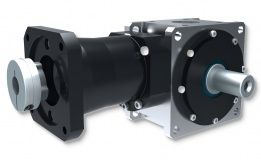 ---
The Tandler hypoid gearboxes have a plain output shaft as standard. A key on the output shaft can be supplied as a no-cost option. Due to the single-stage design with ratios up to 15:1, very low backlash and transmission error is achievable. On the Tandler hypoid gearbox the input is via a flange and two-part coupling - suitable for virtually any servo motor.
Executions Tandler HYP FS2 hypoide gearbox
Tandler HYP FS2 : Hypoide gearbox with servo flange
Tandler HYP FS2 HW : Hypoide gearbox with hollow shaft with keyway (DIN 6885/3)
Tandler HYP FS2 HKW : Hollow shaft with straight sided, splined bore (DIN 5462, 5463, 5472)
Tandler HYP FS2 HWZ : Hollow shaft with internal involute spline (DIN 5480, 5482)
Tandler HYP FS2 HWS : Hollow shaft with schrink disc.
Features Tandler HYP FS2 hypoide gearbox
8 sizes HYP FS2: 90, 115, 140, 170, 192, 215, 240 and 260.
8 gear ratio's (axis d1 ingoing): i = n1:n2 = 5:1 to 15:1.
Permissible max. torque up to 2118 Nm.
Input speed up to 3000 min-1.
Ingoing shaft diameter up to 55 mm.
Hollow or solid outgoing shaft.
Backlash Tandler HYP FS2 hypoide gearbox
Standard 6' (arc minutes); Reduced backlash 3'
Depending on the application possible 1' (arc minutes)
Coupling compensates misalignment

The servo coupling in the flange compensates misalignment and therewith assures proper alignment of motor and spiral bevel gearbox.

High transmission in one stage

The conical gears of the hypoid gearbox allows high transmission ratios in just one stage with high precision and low backlash.

Lifetime lubrication

The hypoid gearboxes are lifetime lubricated and require low maintenance.