Stöber PE-EZ
Economical planetary servo geared motor
Planetary gear – precision series
Stall torque to 223 Nm
3:1 – 100:1 / 8-10 arcmin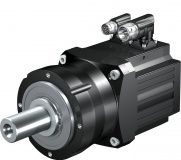 ---
Planetary servo geared motors: None are more compact with this versatility.
With the new generation of planetary servo geared motors, STOBER has developed drive solutions that are the most compact on the market in terms of versatility!
Benefit from a 65% increase in power density and – by leaving out a motor adapter – get the most out of the dynamics of your drive.
PE-EZ: The attractive economy variant
The PE series are highly cost-effective planetary gear units for the economy range with high performance.
They also have the high-quality helical gearing typical of STOBER – for low noise development and the best smooth operation.
It's a unique feature on the market in this price and product class!
When you combine this gear unit with one of our EZ motors you get the advantage of a very economical and also powerful geared motor. Especially in the automation and robotics industries.