Stöber PHQK-ME
servo gear
High Torque – right-angle gearbox
Rated torque to 13000 Nm
22:1 – 591:1 / 3,5 - 4 arcmin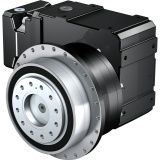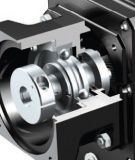 ---
Heavy-duty drive units, comprising the helical geared PHQ series four-planet gear unit and the upstream helical bevel gear units.
6 sizes right-angle planetary gearboxes (PHQ5K1 up to PHQ11K8).
Accelerating torques of 430 to 22,000 Nm.
Gear ratios from 22 to 590.
Backlash smaller than 3.5 to 4 arcmin.
The Quattro Power Line is characterized by the output shaft executed as flange. By the helical gear and construction with four planet wheels the gear unit holds very high torsional and tilting rigidity, high accuracy and low noise.
The gearboxes can be supplied with a motor adapter and backlash-free coupling suitable for each type of servo motor. The gearbox is also available with a drive shaft or with directly mounted servo motor.