Leadshine iCS-RS
Closed Loop stepper motor with integrated drive and Modbus (RS485)
Nema 17/23 - 0.6 to 2.3 Nm
Integrated drive
Closed Loop / Modbus RTU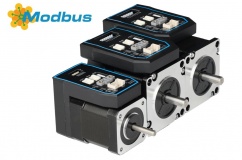 ---
iCS RS Series is an integrated stepper motor with 14 bit magnetic encoder based on standard Modbus RTU protocol, using RS485 communication can network up to 31 axes . Its built in PR feature with 16 segment position table (PR Mode) can save additional controllers in most of point to point applications, to greatly enhance system reliability and reduce the cost.
The iCS-RS series motors are highly reliable, affordable and excellent in many industr ial applications such as solar equipment, textile, civil, robotics , power generation equipment, packaging
Features iCS-RS
Low noise and vibration, smooth motion
Support Modbus RTU protocol, Internal 16 segment position Commands
Motion can be started by external IO or RS485 or HMI
Support operation modes: Profile Position, Profile Velocity, Homing
7 configurable digital inputs, 3 optically isolated digital outputs
14 bit single turn absolute encoder
iCS RS17xx: 20 36VDC supply voltage, max output current 3.0A peak
iCS RS23xx: 20 50VDC supply voltage, max output current 7.0A peak
RS232 port for tuning software connection, RS485 port for motion control
Protections for over voltage, over current , etc.
Compare with Step/Direction iCS-serie:
Built in single axis control can save the PLC in most of point to point applications to reduce cost
Built in rich diagnostic functions and input and output signals to setup easily
Modbus brings more expansion possibility to add value;