Trio Motion Technology MC664X
Motion controller
128 axes (64 virtual)
EtherCAT / Optional: Sercos / Anybus etc
64bit-Quad Core Cortex A9 1GHz processor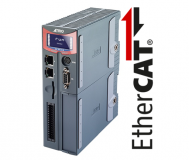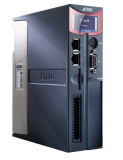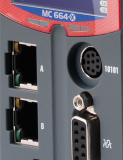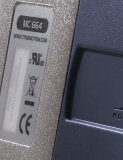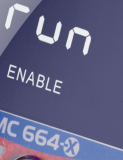 ---
The MC664-X is Trio's highest performance and most flexible Motion Coordinator and is based on the Quad Core Cortex A9, 1GHz ARM processor. The MC664X feature a total of 128 axes in software with up to 64 motor axes and 64 bit integer position registers. 64 bit floating point calculations are used for ultra precise axis resolution.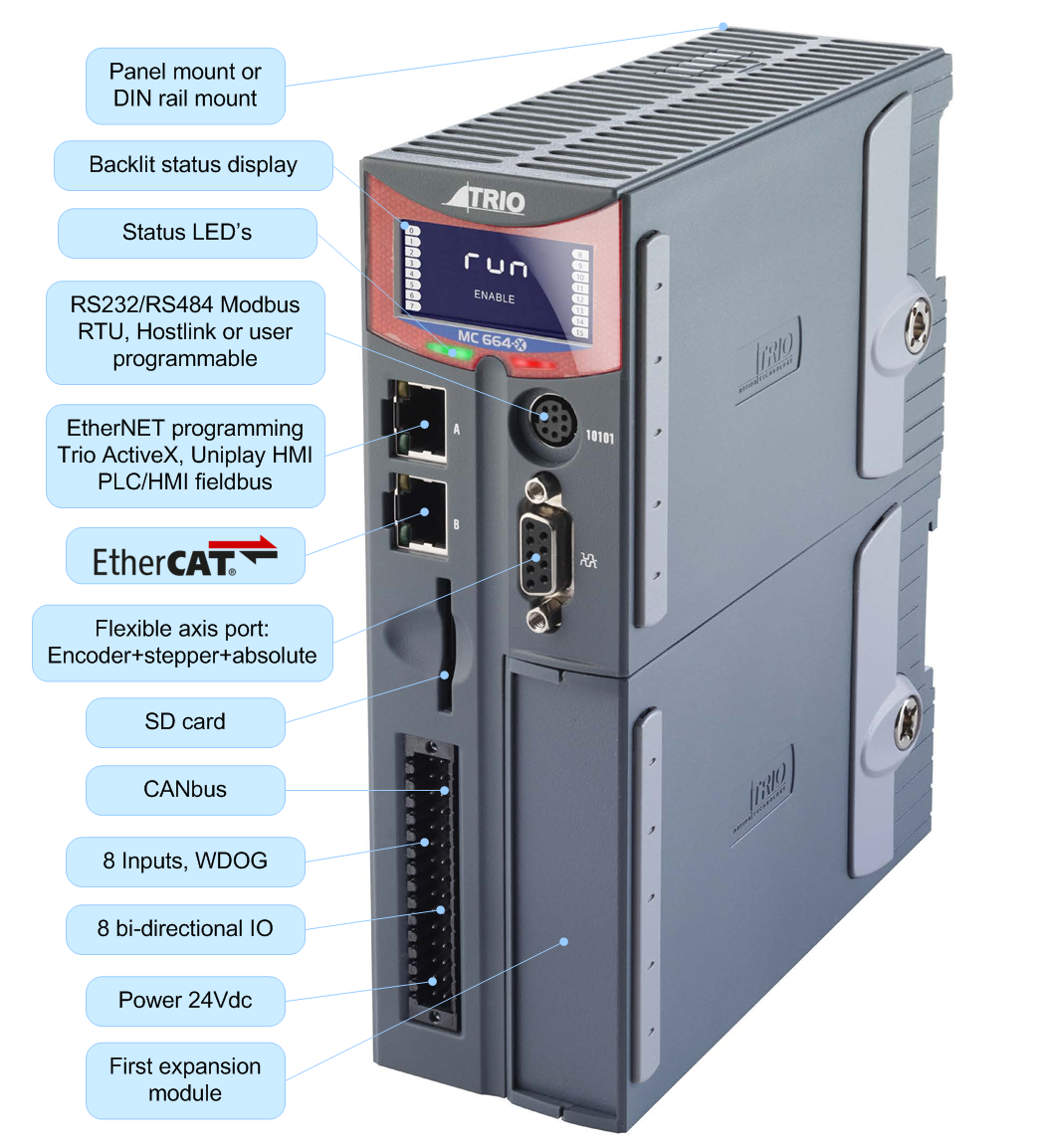 With the integrated EtherCAT port, up to 64 EtherCAT servo- or stepperdrives can be controlled. Using expansion modules of the MC664 series, in addition to EtherCAT, other industrial bus systems can be selected for controlling controllers (remote axes) or for communication with other controllers in the factory network.

The full-height expansion modules support more conventional axis types, 24 analogue servo drives, 25 pulse and direction drives and 25 absolute and incremental encoders. Every axis can be programmed to move using linear, circular or helical or spherical interpolation, electronic cams, linked axes and gearboxes.
The quad core 1GHz processing power allows for multiple robotic transformations to run simultaneously.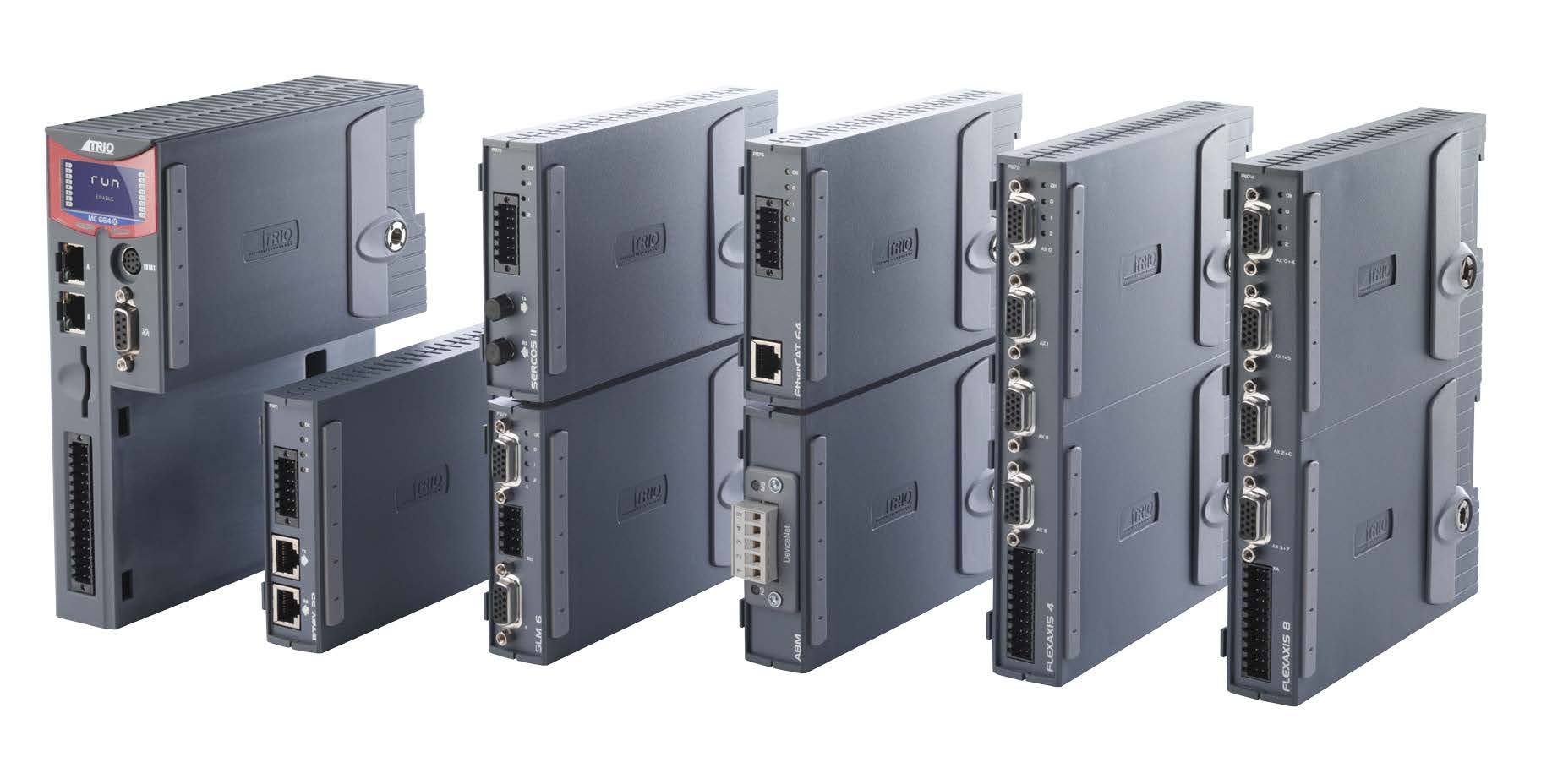 Configure your application by connecting up to 7 half-height expansion modules or 3 full-height expansion modules. Each module easily attaches to the controller with a high density bus connection and a uniquely designed screw integrates the earth planes of all modules and Motion Coordinator together.
Trio's feature enable code system for axis activation allows the whole system to be scaled exactly to your requirements. The P876, P872 and P871 all come equipped with two axes per module as standard. To add further axes, the P914 Feature Enable Code can be purchased.
Each P914 doubles the available axes:
P862 + P914 = 4 Remote Axes
P862 + 2 x P914 = 8 Remote Axes
P862 + 3 x P914 = 16 Remote Axes
P862 + 4 x P914 = 32 Remote Axes
P862 + 5 x P914 = 64 Remote Axes
The enabled axes can be used via the built-in EtherCAT port or via the P876, P872 and P871 Expansion Modules.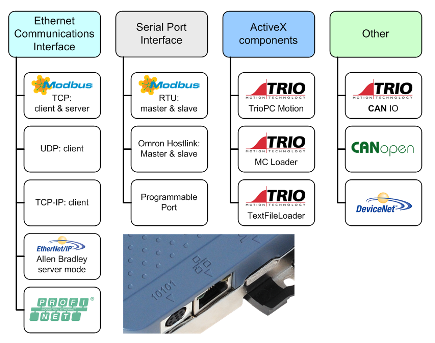 The built-in Ethernet port, serial port and CAN port make the Trio MC664-X motion controller an extremely flexible motion controller for communication with other systems. In addition to programming the motion controller and the HMI connection, various protocols are available for communication with PC and PLC.
User programs can be written in Trio-based multi-tasking Trio MOTION-iX language using the powerful Motion Perfect application software for making complex motion easy. In addition, the standard IEC 61131-3 programming language is available, making fully functional PLC programming possible.


The Flexslice input / output modules from Trio offer a robust, fast and flexible solution for both motion control and general automation. EtherCAT cycle times of up to 125μsec are supported and the bus coupler uses EBUS technology to bring all submodules onto the EtherCAT network without degrading performance.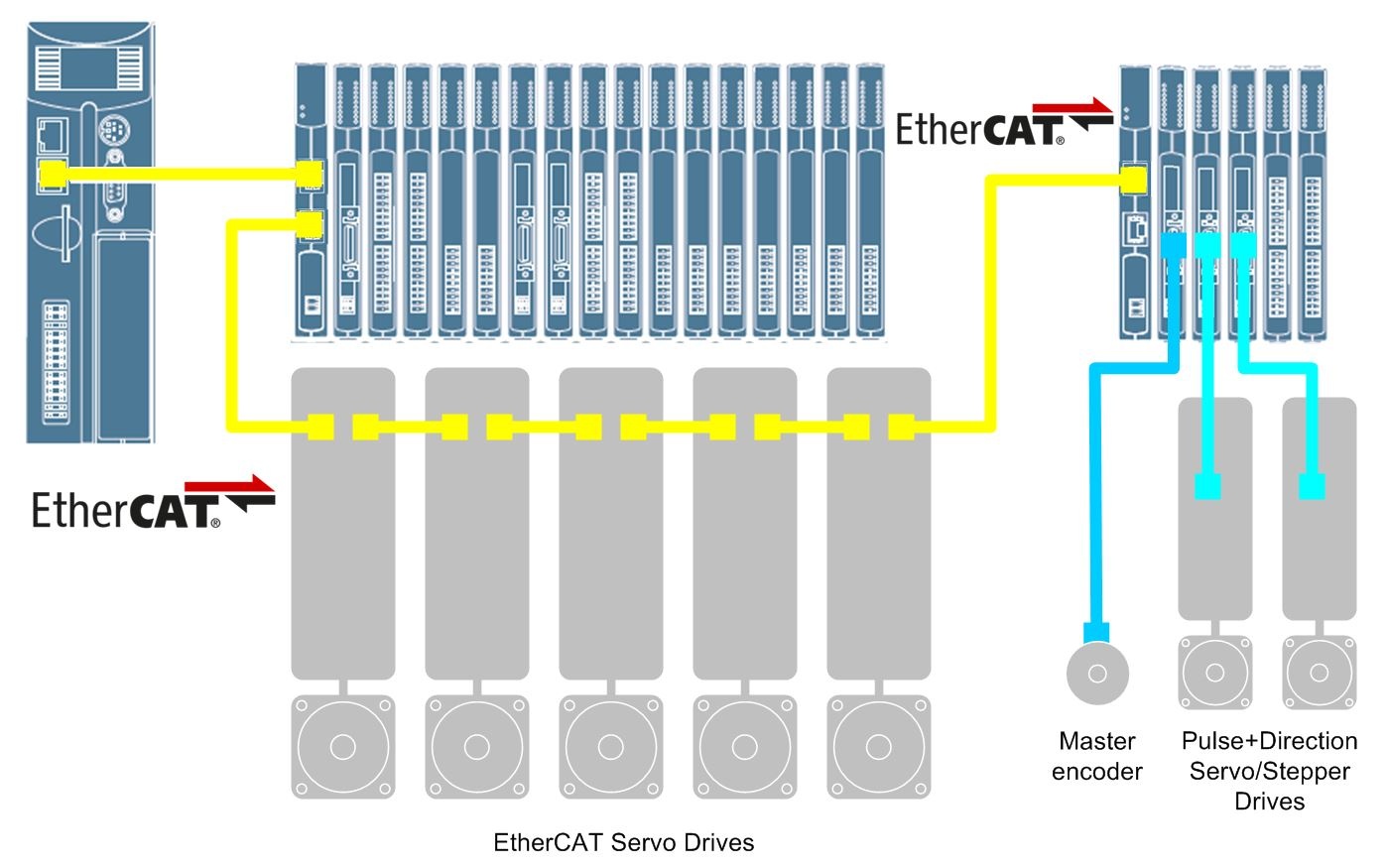 EtherCAT slave nodes (Flexslice modules) are connected via the Flexslice EBUS and the EtherCAT connector. Total number of slave nodes can be a maximum of 128 including I/O and more complex devices.
Flexslice modules: