Stöber ST6
Safety function in SD6 servo drive
STO according to EN 61800-5-2
PLe (Cat.4) according to EN ISO 13849-1
Integrated in SD6 servo drive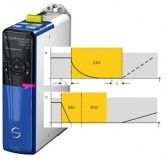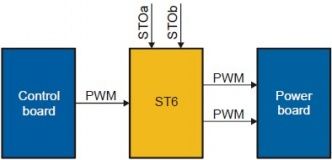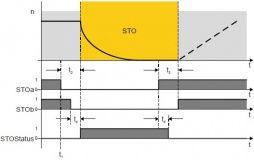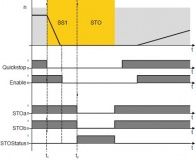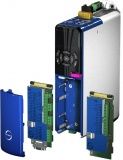 ---
The ST6 safety function is an extension of the SD6 servo drive. With the ST6 option, the SD6 servo drive can be integrated in the safety circuit as a safety related part of the control system (SRP / CS) for the redundant disconnection of the motor / actuator torque (STO).

The safety function has a two channel design. Both channels STOa and STOb are independent and must both be connected to 24Vdc in order to enable the motor torque (STO function not active). In this situation, the STO status signal is also not active.
If one of the two channels STOa or STOb is not connected to 24Vdc, the PWM signal to the power stage of the servo controller is switched off redundantly by the ST6 module so that the motor can no longer supply torque. The STO status signal is active in that case.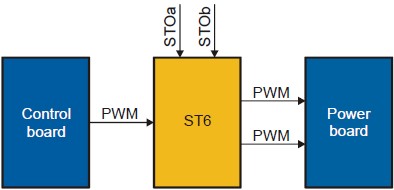 The signal flow of the STO function of the Stöber SD6 servo drive with ST6 option is shown in the picture below. The STOa and STOb signals are switched using a safety relay or safety PLC (SRP / CS Logic). In this way a Performans Level PLe (Cat.4) can be achieved according to EN ISO 13849-1 or SIL CL3 according to EN 62061 or SIL 3 according to EN 61508.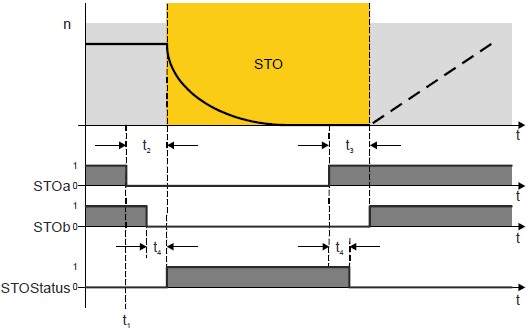 By using a safety relay or safety PLC equipped with switching contacts with time delay, Safe Stop 1 function (SS1) can also be realized with the ST6 option according to EN 61800-5-2 and EN 60204-1. With the help of an additional option board XI6 or OI6 or RI6, a Quickstop signal can be connected to the servo controller in addition to the Enable signal.

The signal sequence of the SS1 + STO function of the Stöber SD6 servo controller is shown in the diagram below.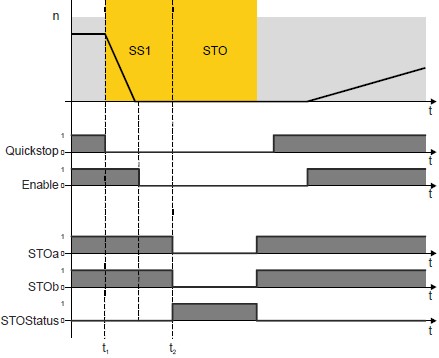 The safety relay or safety PLC activates the SS1 safety function at time t1 via the Quickstop signal. After the delay time in the safety relay or safety PLC, the STO signal (a + b) is switched off in time t2. This process corresponds to "time-controlled SS1" definition of EN 61800-5-2.
Stöber SD6 controller with ST6 option with extension possibility of XI6 or IO6 option board.