IAI Industrial Robots RCP6-RRA
Linear servo actuator
24V stepper - absolute encoder
Payload 5-100 kg - ball screw spindle
700 mm stroke - 1120 mm/s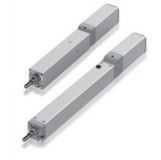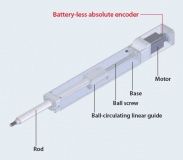 ---
The RCP6-RRA lineair actuator is equipped with a 24V stepper and absolute encoder and linear guide.
Since ball circulating linear guides are built in, it can take radial loads and moment loads. The vibration upon stopping can be suppressed and a long stroke of up to 700mm has become possible. In addition, product quality has signicantly increased with a non-rotating rod precision of "0 degree" with a no load condition. The equipment will be compact since an external guide is unnecessary.
Examples:
Inserting, press-tting, or riveting a work
Using as a lifter or a work piece unloader
Using as a movable vertical axis of the cartesian system
Transferring or positioning a lightweight object
Simply and complete solution with drives

The IAI actuators are deliverd with drive and cabling. Specifications of the actuator like forces and number of mm each revolution of the motor are already fixed. Because of this a a quick and safe commissioning is guaranteed.

Software support by ATB Automation

The software engineers at ATB Automation assist in programming and commissioning via the help desk or on site

Flexible with bussystems

Besides control with I/O the drive can also be controlled with EtherCAT and ProfiNet.
The SD6 drive also has the CANopen option available.