Jakob W
Servo coupling
Distance coupling / line shaft
metal bellow or elastomer
Variable lengths 0,3 - 6 m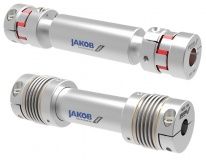 ---
Comprises several couplings which can span axial distances of up to 6 m of length. The distance coupling features an intermediate pipe which is variable in length with metal bellow couplings or elastomer couplings. High torsional stiffness. Low moment of inertia. High speed.
2 versions distance couplings
Metal bellows coupling (WD)
Elastomer coupling (EKZ)
Characteristics
14 sizes with hub diameter from 40 to 158 mm.
Variable lengths between 0.3 to 6 m.
Bores up to to 85 mm.
High torques from 20 - 1.600 Nm.
Materials: aluminum and stainless steel versions.
Backlash-free torque transmission.