Leadshine ELVM
Brushless dc-servomotor
Brushless dc-servomotor 100W - 2kW (24-70Vdc)
Stall torque 0,3 to 6,4 Nm
Rated Speeds up to 3000 rpm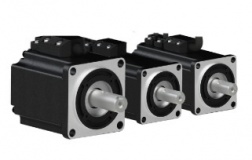 ---
The brushless servo motor, also known as BLDC motor or Brushless DC, is a DC servo motor that is equipped with a 17 bits encoder and is available with a power of 100W up to 2 kW. Flange sizes of square 40, 60, 80 and 130 mm.
Typical applications for brushless dc servo motors are battery or battery powered applications:
AGV vehicles
AMR Robots
Internal transport systems
Logistic handling systems
Machines for agriculture and horticulture.
The ELVM series is controlled with the Leadshine ELD2 controllers of which different types are available.