Stöber P-ME
servo gear
Planetary gearbox – precision series
Rated torque to 2000 Nm
3:1 – 100:1 / 1 – 4 arcmin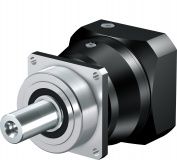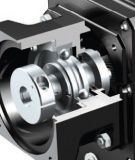 ---
Axial planetary gearboxes with helical gearing. Characterized by backlash stability, high rigidity and extreme quiet running.
7 sizes planetary gearboxes (P2 to P9).
Accelerating torques of 18 to 3,000 Nm.
Gear ratios from i = 3 to 100.
Backlash smaller than 1 to 8 arcmin.
Optional ServoStop: with a in the motor adapter integrated fail-safe brake.
The planetary gearbox can be supplied with a ME motor adapter and backlash-free EasyAdapt® coupling, suitable for any type servo motor. The motor coupling for the attachment of servo standard motors is fully integrated in
the monoblock housing.
Also available with pinion for gear rack and pinion drives, ZV-series.