Stöber KL-MQ
servo gear
Compact helical bevel gearbox
Rated torque to 50 Nm
4:1 – 32:1 / 16 - 25 arcmin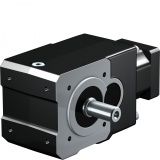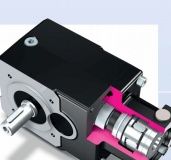 ---
Helical bevel gear units with two-stage gearset, for mounting with servomotor. With significant weight saving. Highly stiff and extremely compact design with input and output on the same plane.
2 sizes helical bevel gearboxes (KL1 and KL2).
Accelerating torques of 19 to 65 Nm.
Gear ratios from 4 to 30.
Backlash smaller than 16 to 25 arcmin.
Optional ServoStop: with a in the motor adapter integrated fail-safe brake.
Available as:
Solid shaft with keyway.
Hollow shaft with keyway, optional with cover.
Hollow shaft with mounting flange.
The KL helical bevel gearbox comes with a modulair square flange (ME) and backlash-free EasyAdapt coupling for mounting to servo motors.
The KL helical bevel gearboxes are lifetime lubricated.