Stöber K-ME
servo gear
Helical bevel gearbox
Rated torque to 12000 Nm
4:1 – 381:1 / 1,5 - 12 arcmin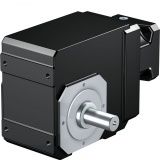 ---
Torsionally rigid block design allows tightest functional tolerances. Low noise and accurate bevel gearbox. Economic solution for simple servo applications with solid shaft or hollow shaft.
10 sizes helical bevel gearboxes (K1 to K10).
Accelerating torques of 42 to 13,200 Nm.
Gear ratios from 4 to 380, possible to 1,400.
Backlash smaller than 10 to 12 arcmin, can be reduced from 5 to 6 arcmin of even from 2 to 3 arcmin.
Helical bevel gearboxes available with:
Solid shaft with keyway.
Hollow shaft with keyway, optional with cover.
Hollow shaft with shrink disk, optional with cover.
The gearbox is supplied with a modulair square flange (ME) and backlash-free EasyAdapt coupling for mounting to servo motors. The gearboxex are also available with a circular flange (MR) for IEC motors or with a drive shaft (AW).
Sizes K1 to K4 are lifetime lubricated with nominal use.
Optional ServoStop: with a in the motor adapter integrated fail-safe brake.