IAI Industrial Robots RCP5W-RA
Electric actuator with rod IP67
24V stepper - absolute encoder - IP67
Payload 20-240 kg - ball screw spindle
800 mm stroke - 560 mm/s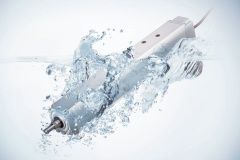 ---
The IAI RCP5W-RA rod type splash-proof electric actuators has a protection Class IP67. The actuators is developed with a splash-proof structure to shut out water even when the cylinder is submerged in water, for use in food preparation machines, washing machines and other systems exposed to water splashes and jets.
The actuator has been equiped with a battery-less absolute encoder.
A ball-circulating linear guide is built into the actuator to achieve longer strokes of up to 800 mm.
The RCP5W-RA boasts the maximum acceleration/deceleration of 1 G and maximum speed of 560 mm/s.
The ball screw and guide can be lubricated at the same time by adding grease from the grease nipples provided on the top face of the nut holder. Another grease nipple is provided on the top face of the front bracket to grease the sliding part of the rod.
Replacing the seals at the sliding part of the rod is very easy, because all you need is to change the front bracket.
Simply and complete solution with drives

The IAI actuators are deliverd with drive and cabling. Specifications of the actuator like forces and number of mm each revolution of the motor are already fixed. Because of this a a quick and safe commissioning is guaranteed.

Software support by ATB Automation

The software engineers at ATB Automation assist in programming and commissioning via the help desk or on site

Flexible with bussystems

Besides control with I/O the drive can also be controlled with EtherCAT and ProfiNet.
The SD6 drive also has the CANopen option available.