WEISS HP 70
Pick-and-place handing unit HP 70
Max. stroke horizontal 325 mm
Max. stroke vertical 70 mm
Max. speed 4 m/s - Acceleration 40 m/s²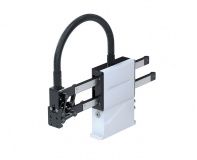 ---
The freely programmable HP 70 pick-and-place handling unit of WEISS has two horizontal axis to realize a horizontal and a vertical movement. The WEISS HP 70 is highly dynamic in extremely compact and narrow design. The WEISS HP 70 overcome the limitations of traditional pneumatic systems with regard to variability, dynamics and profitability.
Technical details HP 70 pick-and-place unit
Two horizontal linear axes parallel on top of each other, connected through a kinematic unit. Because of the construction a narrow width of only 60 mm is possible.
| | |
| --- | --- |
| Vertical stroke | 0 - 150 mm freely programmable |
| Horizontal stroke | 0 - 400 mm freely programmable |
| Positioning precision | 0,02 mm |
| Repeatability accuracy | < 0,01 mm |
| Maximum accelaration | 40 m/s² |
| Maximum speed | 4 m/s |
| Max. handling weight | 3 kg (gripper and workpiece) |
| Installation position | horizontal |
| Weight HP140 pick & place handling unit | 9 kg |