Trio Motion Technology RX
Scara robot
230V servo high speed scara robot
Max payload 3 to 6 kg
Arm 400-700 mm - Z-axis 0-200 mm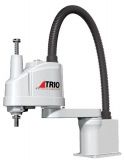 ---
Scara Robots with fast integration
Trio supplies Scara Robots with an arm of 400 to 700 mm. These are controlled with a Trio of motion controller.
An integrated solution with robot and machine control as one coordinated system maximizes performance and simplifies programming and possible future expansion of the system.
Motion Perfect includes access to IEC 61131 and PLCopen and the robotics solution; TrioRPS.
This allows advanced visualization including a 3D oscilloscope.