IAI Industrial Robots IXP
Scara robot
230V stepper scara robot - low cost
Max payload 1-6 kg
Arm 180-650 mm - Z-axis 80-200 mm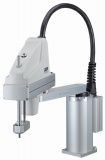 ---
The IAI IXP SCARA delivers high performance at a competitive price. Thanks to the powerful PowerCon controller the performance is similar to conventional models up to a load of 6 kg. The SCARA robot is equipped with a battery-less absolute encoder and is available in an arm length of 180 - 650mm.
The 3-axis SCARA robot can be combined with an IAI gripper or actuator as a fourth axis. The IXP SCARA robot is suitable for pick and place applications and inspection systems. The IXP has an available arm length of 180 or 650 mm, and a vertical axis with stroke lengths of 80 - 200 mm (150 mm in combination with a gripper). Repeatability accuracy up to 0.03 mm.
Advantages IAI IXP SCARA robot:
Light execution with high performance.
Cost efficient due to pulse motor.
Battery exchange no longer necessary thanks to use of battery-less absolute encoder.