HSB Automation Gantry (HSB)
XYZ cartesian system
XY, XZ gantry
Assembly of Gamma and Sigma modules
Custom design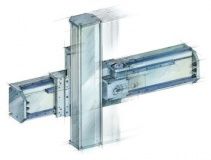 ---
XY, XZ gantries, excisting of assembly of Gamma and Sigma modules. Custom design.
Contact us.
Robust gantry robots

Profile with one or double rail guide ideal for modular constructed gantry robots

Customized design

Within the range of the Beta and Delta or Gamma and Sigma modules ATB Automation calculates and selects each gantry

• Complete with motors and controler

ATB Automation delivers on project basis total solutions with servo systems and controllers.