IAI Industrial Robots RCP2-GR
Gripper
24V stepper - 2 fingers - slide
Gripping force 14-200N
8-100 mm stroke - 100 mm/s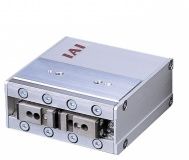 ---
Greater gripping force
The maximum gripping force is 200 N, meaning that even heavy work parts can be gripped without fail.
It is also possible to adjust the gripping force for each work part, so dicult-to-handle work parts such as those that deform easily are also supported.
Higher rigidity
Moment rigidity is achieved using internal ball guides.
Large work parts can be supported.
Longer stroke
Long strokes are supported, so work parts of different sizes can also be handled.
Simply and complete solution with drives

The IAI actuators are deliverd with drive and cabling. Specifications of the actuator like forces and number of mm each revolution of the motor are already fixed. Because of this a a quick and safe commissioning is guaranteed.

Software support by ATB Automation

The software engineers at ATB Automation assist in programming and commissioning via the help desk or on site

Flexible with bussystems

Besides control with I/O the drive can also be controlled with EtherCAT and ProfiNet.
The SD6 drive also has the CANopen option available.