IAI Industrial Robots ICSPA-BN
XYZ cartesian system
230V servo - multiple XYZ system
Max payload 40 kg
Max reach 2250 x 700 x 500 mm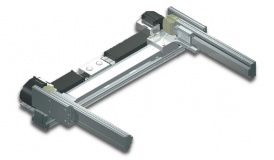 ---
4 to 6-axis linear systems with the basic axis of the NS-series linear actuators. Optional as multi-slider, and the Y-axis and Z-axis from the IS-series electric linear actuators.
ICSPA4-BN 4-axis linear systems
4-axis with a maximum range of 2250 x 700 mm.
ICSPA6-BN 6-axis linear systems
6-axis with a maximum range of 2250 x 700 x 500 mm
Available controller:
Multi axis programmable controllers, type XSEL (230 Vac)
- 1 to 6 axes.
- Free programmable.
- 4000 positions.
- Interpolation.
- Expandable with digital I/O.
- Expandable with Profibus, DeviceNet, or Ethernet CCLink.
Software support by ATB Automation

The software engineers at ATB Automation assist in programming and commissioning via the help desk or on site

Total solution

The system includes controllers, adapters for assembly, cables and optional with cable track.