IAI Industrial Robots RCP6-RTCK
Rotary drive with gripper
24V stepper with rotation and gripper
Maximum torque 0,36 Nm / force 20N
Speeds up to 1800 ͦ/s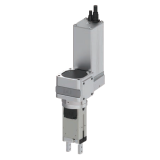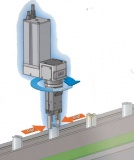 ---
The IAI Rotary drive with gripper combines motorized rotation and gripping into a 1 efficient product.
The RCP6-RTCK comes with multiple advantages:
The axis can be rotated to any angle between 0 and 360°, in just 1 rotation.
The module is small and lightweight. This simplifies your assembly process.
Comes with a Battery-less Absolute Encoder: so no maintenance and homing required.
Highly flexible installation: the motor can be selected from a parallel type and a side-mounted type. The parallel type can be mounted from 5 sides and the side-mounted type from 4 sides, to suit the equipment.

Simply and complete solution with drives

The IAI actuators are deliverd with drive and cabling. Specifications of the actuator like forces and number of mm each revolution of the motor are already fixed. Because of this a a quick and safe commissioning is guaranteed.

Software support by ATB Automation

The software engineers at ATB Automation assist in programming and commissioning via the help desk or on site

Flexible with bussystems

Besides control with I/O the drive can also be controlled with EtherCAT and ProfiNet.
The SD6 drive also has the CANopen option available.