IAI RCP6 linear actuators: fast, robust with flexible control
Date: 15 November 2016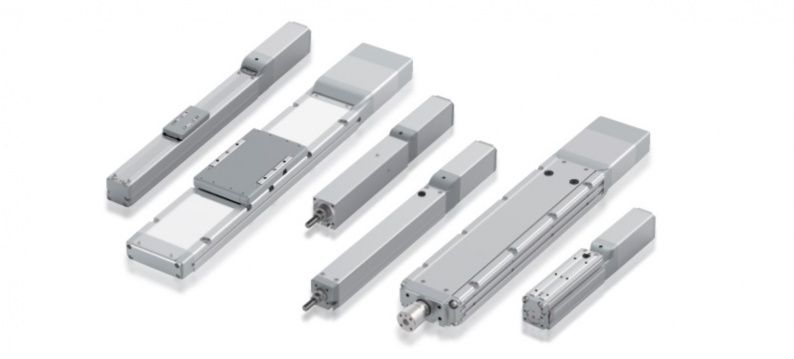 IAI brings with the new generation RCP6 linear actuators a flexible and robust solution to market with high repeatability for every positioning application within a range of one meter.
6 types RCP6 linear actuators
Each type is equipped with:
24Vdc stepper motor, in-line or parallel mounted
Multiturn absolute encoder, homing is not required anymore
Ball screw with repeatability of ± 10 μm
Robust schielding
Version with rod and integrated ball screw. for high radial loads and moment loads.
Load: from 5 to 100 kg
Maximal stroke length: 700 mm
Maximal speed: 1120 mm/s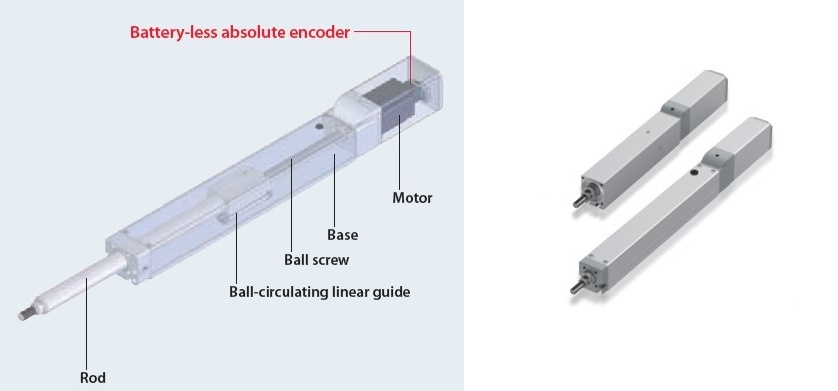 Version with rod without linear guide. Least expensive model, ideal for replacement of pneumatic actuators.
Load: from 6 to 100 kg
Maximal stroke length: 300 mm
Maximal speed: 860 mm/s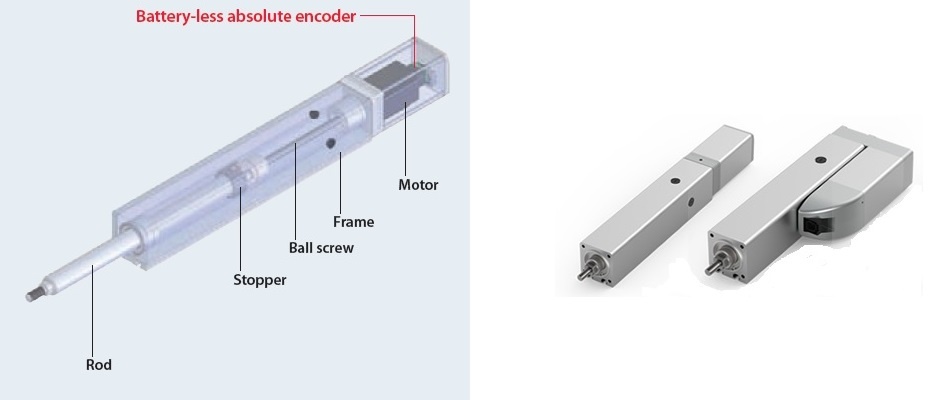 Uitvoering met drijfstang met brede behuizing en kogelomloopgeleiding. Hierdoor kunnen zeer hoge krachten en momenten op de drijfstang worden opgevangen
Load: from 4 to 100 kg
Maximal stroke length: 800 mm
Maximal speed: 800 mm/s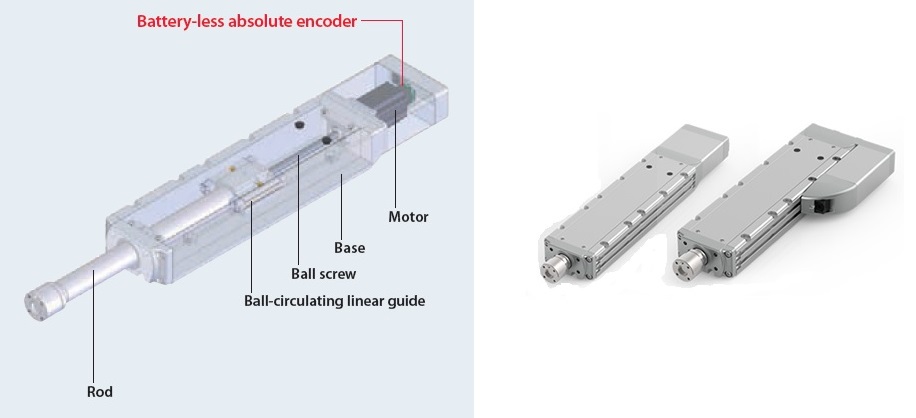 Version with slider and integrated ball screw, for mitigation of moments in all directions. Therefor these actuators are ideal for composing a XY or XYZ system.
Load: van 7 tot 80 kg
Maximal stroke length: 1100 mm
Maximal speed: 1440 mm/s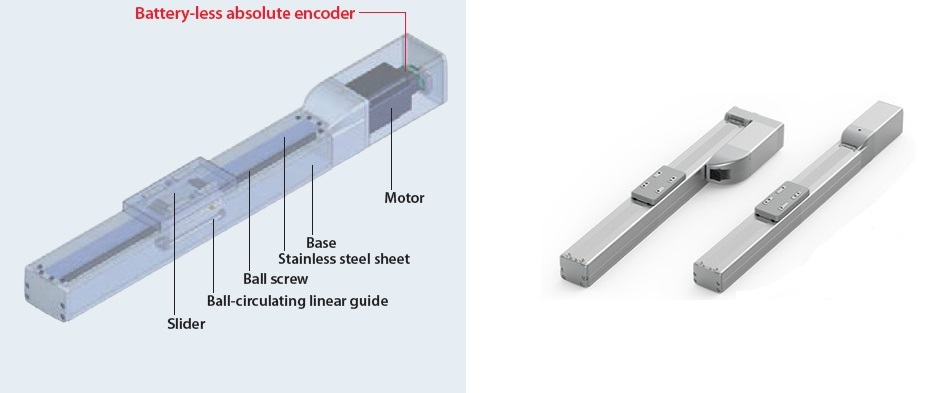 Version with wide slider and integrated ballscrew for mitigation of high moments. Hence the RCP6-WSA is a perfect actuator as basis for a cartesian system.
Load: van 4 tot 100 kg
Maximal stroke length: 1100 mm
Maximal speed: 840 mm/s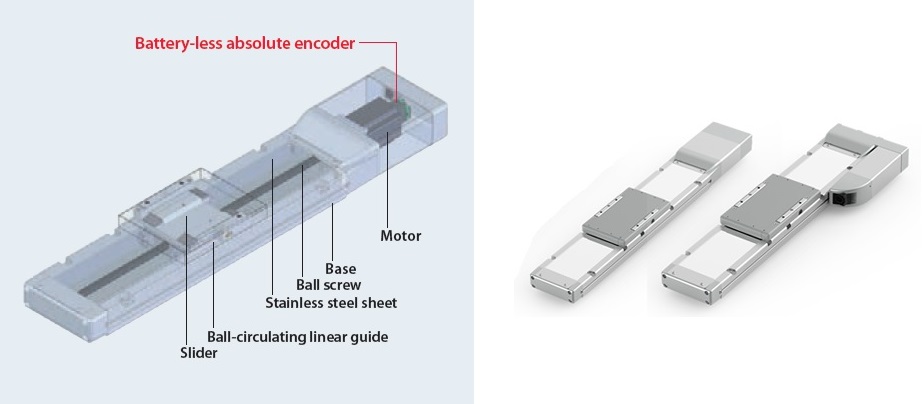 The RCP6-TA table type actuator suitable for a steady load movement, especially vertical payloads. The load can ben mounted with the thread holes on the surface of the table and end plate.
Load: van 1 tot 30 kg (10 kg verticaal)
Maximal stroke length: 390 mm
Maximal speed: 1120 mm/s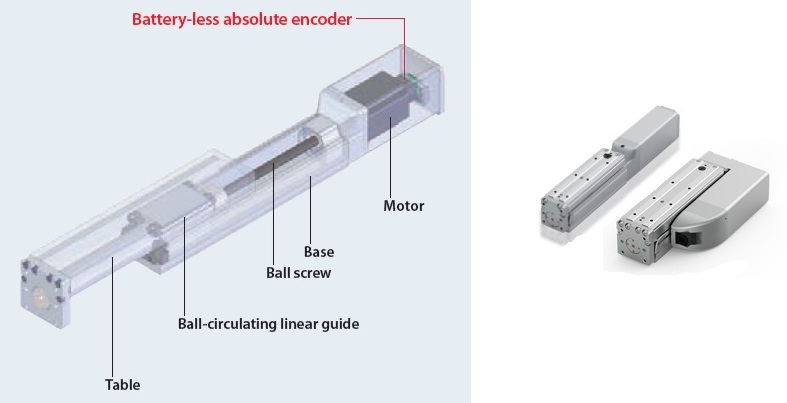 Controllers for the RCP6 actuators
Single axis positioning controller PCON: max 512 positions per axe or pulse train control
Expandable with bus systems e.g. EtherCAT, ProfiNet
Multi-axis positioning controllers MCON: control of 4 axis, max 256 positions per axe
Multi-axis free programmable controller MSEL: control of 4 axis

All types RoboCylinders linear actuators from the RCP6 series can be executed with an integrated controller next to the 24V stepper motor and absolute encoder.
The actuator equipped with:
Communication port: connection to pc or touch panel teaching pendant, type TB-02
Power supply + serial connection port: connection to gateway, hub or plc
LED lighting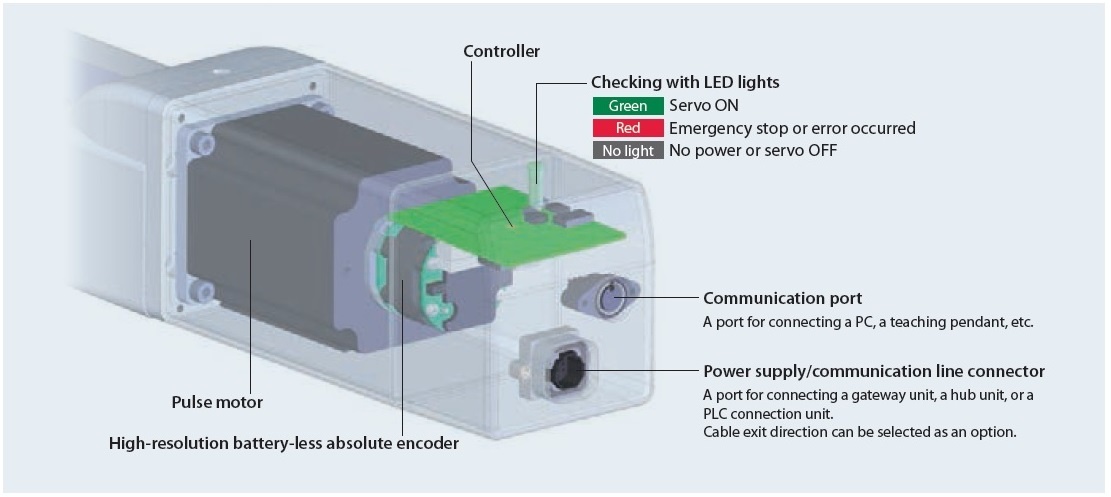 Fieldbus netwerk with gateway (RCM-P6GW)
By using the gateway unit, a maximum of 16 axes or RCP6S actuators can operate via a field network:
RCM-P6GW-EC: EtherCAT
RCM-P6GW-PRT: ProfiNet
RCM-P6GW-PR: ProfiBus
RCM-P6GW-DV: DeviceNet
RCM-P6GW-EP: EtherNet I/P
RCM-P6GW-CC: cc-Link
To each gateway 4 pieces RCP6S or 4 hubs can be connected direcly. Subsequently 4 stuks RCP6S actuators can be connected on each hub (type RCM-P6HUB).
Direct serial connection to a plc via a connection unit (RCP-P6PLC)
Via the RCP-P6PLC connection module the RCP6S can easily be controlled from a plc via serial communication .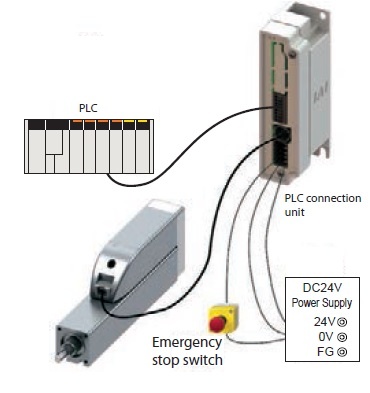 Download the complete RCP6 catalog here