IAI Industrial Robots TB-02
Human Machine Interface
7" TFT 16-bit color (800 x 480) touch panel
Programming/monitoring of IAI controllers
Dimensions 190 x 155 mm (w x h)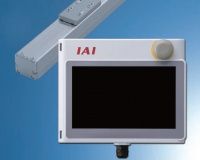 ---
Control panel for very simple programming or monitoring of any type of IAI controller. Suitable for both the CON, SEL, SEP and ERC controllers.
Examples of available features:


Programming and parameterization
I / O control
Trouble shooting
Monitoring of position, velocity and current
gateway settings
Maintenance Parts List
Off-board tuning
Pulse Train settings
Explanation of terms in the catalog
Data is stored in an SD memory card.
Including 5 meter cable for the specified controller
Optional with emergency stop.