Screw jacks
NEFF spindle lifting elements for machine building (screw jacks).
ATB Automation supplies components in mechanics and Motion control technology. Spindle lifting elements, screw jacks, are an important product group within the Mechanics group. With lifting forces of up to 500kN, there are solutions for various industries. The spindle lifting elements can be driven with a wide range of motors and drives from the Motion Control range of ATB Automation.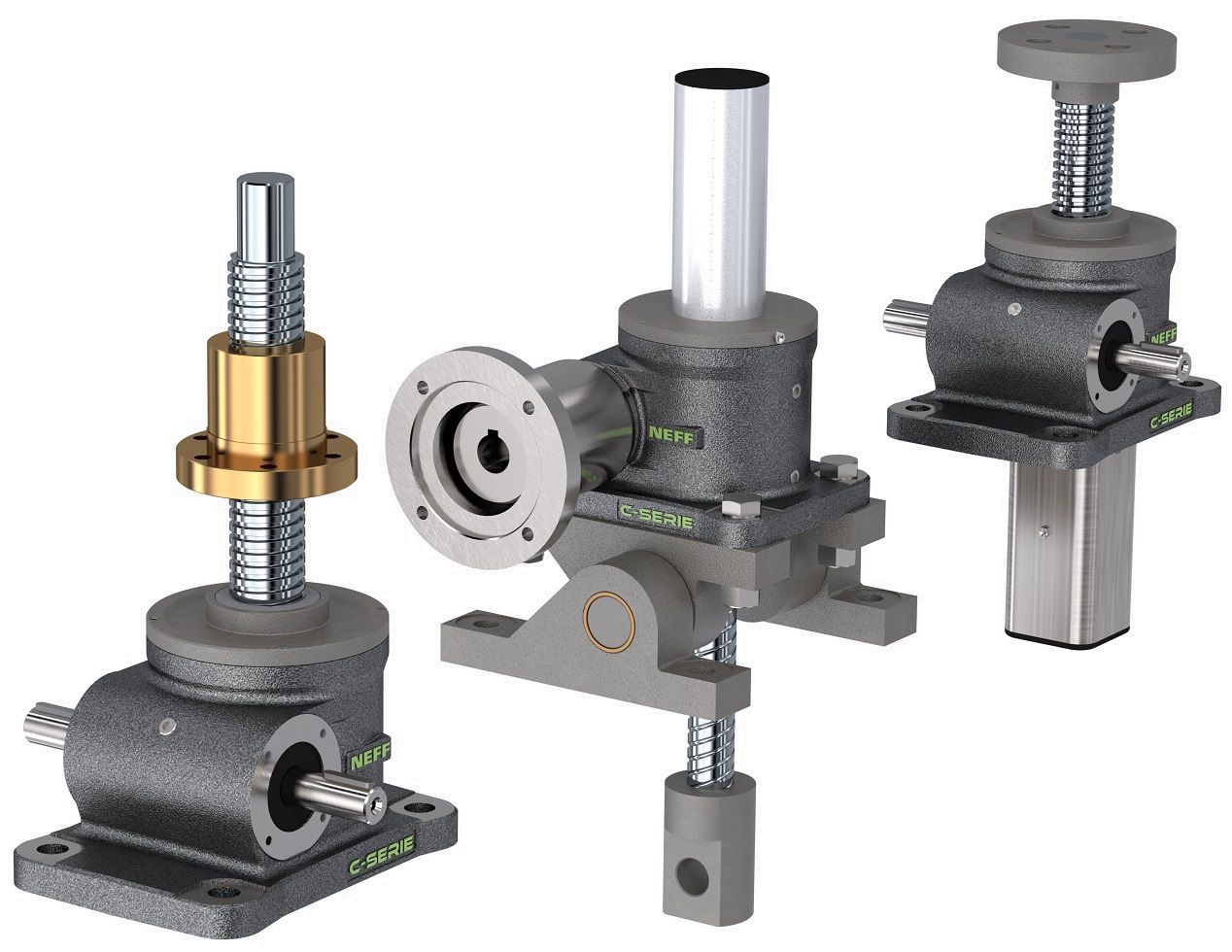 NEFF spindles and spindle lifting elements
The NEFF spindle lifting elements are high-quality products and have a long history. Wilhelm NEFF opened a mechanical workshop in Waldenbuch in 1905. Since the 1980s, the focus has been on spindles and spindle lifting elements.
NEFF delivery program
Spindles :
Ball screw and trapezoidal spindles. Available with various nuts.
Spindle lifting elements / screw jacks :
Worm gear screw jacks for general applications and bevel gear screw jacks for high speeds. All NEFF screw jacks are available with ballscrew or trapezoidal spindle. All NEFF lifting elements are available with a standing moving spindle or a rotating spindle with a moving nut.
Telescopic spindles :
Telescopic spindles are a solution for small installation spaces. Available up to a maximum of 7 steps.
Accessories :
Gearboxes, bearings, intermediate shafts, clutch. All components are available to provide a complete lifting installation with multiple NEFF spindle lifting elements. Mechanically coupled as well as electrically coupled.
NEFF "classic" spindle lifting element (C-serie)
The most famous spindle lifting element in the industry. A robust product with a proven service life. The main features are :
High-quality teeth. Wear-resistant, high forces permissible.
Lubrication spindle. A standard connection for lubrication makes it possible to lubricate the spindle during operation.
Motor adapter connection. Standard threaded holes available for clutch drive.
Lifetime lubrication. Optimized grease lubrication maintenance-free. Completely separated from lubrication spindle.
Housing. High-quality cast steel with coating suitable for all industries.
Mounting. The standardized mounting holes allow for interchange with existing systems.
Request advice or quote NEFF spindles and/or spindle lifting elements
With over 65 years of experience in drive technology, ATB Automation provides advice for any desired industrial drive problem with a delivery program from extremely compact servo drives to linear spindle lifting systems in the most diverse industries.
Contact us directly for advice on the most suitable servo motor for your application:
Via the contact form below.
Send your inquiry to neff@atbautomation.eu
Call our Dutch specialist Rico Godfried on +31 297 38 05 69.
Call our Belgian specialist Michael Van Roey on +32 2 588 80 08.
Delivery in the Netherlands, Belgium and Luxembourg.