NEFF M/J-N
Screw jack
Lifting screw jack, axial screw
Lifting capacities of 2,5 to 500 kN
Ingoing speed up to 1500 min-1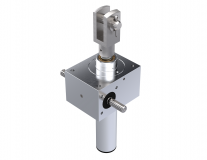 ---
NEFF screw jack (type M/J-N) with axial lifting screw or rotating screw for lifting capacities from 2,5 up to 500 kN. The NEFF M/J-N screw jack is used wherever loads have to be positioned under moderate duty cycles and little dynamic. The cubical design and the all-round handling facilitate an easy alignment of the drives during installation.
Construction forms NEFF screw jack M/J-N
Type N : Non-rotating moving screw
Features NEFF screw jack M/J-N
11 sizes with lifting capacities of 2.5 to 500 kN
Drive-motor speed of up to 1.500 rpm
Self-locking rolled trapezoidal screw
Grease-lubricated version
All-round handling allows for an easy alignment
Worm gear pairs in two ratio steps (normal "H" and slow "L")
Identically constructed to European manufacturers of worm gear screw jacks with cubical design
Application examples NEFF M/J-N
Lifting systems
Theatre stages
Safe opening and closing of the service hatch of wind turbines
NEFF screw jacks (Type N/J-N) are also available with accessories such as couplings, connecting shafts and drives for your complete lifting system.