NEFF C-series
Screw jack
Lifting screw jack, axial or rotating screw
Lifting capacities of 5 to 500 kN
Trapezoidal spindle or ballscrew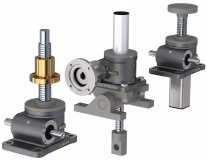 ---
NEFF screw jack (C-series) with axial or rotating screw for lifting capacities of 5 to 500 kN. Classical housing form made of spheroidal graphite iron. The robust C-series screw jack is used anywhere where high loads have to be positioned and lifted accurately at medium duty cycles and moderate lifting speed.
Construction forms NEFFP screw jack C-series
Type N : Non-rotating moving screw
Type R : Standing rotating screw
Features NEFF screw jack C-series
4 sizes with lifting capacities of 5 to 500 kN
Drive-motor speed of up to 1.500 rpm
Self-locking trapezoidal screw
Grease-lubricated model
Worm gear pairs in two ratio steps (normal "H" and slow "L")
Worm-drive shaft case-hardened and ground
Application examples
Lifting systems
Height and inclination adjustment indoor running track
Theatre stages
Test rig
NEFF screw jack are also available with accessories such as couplings, connecting shafts and drives for your complete lifting system.