NEFF GREASE
Screw jack, Spindle
5 types of lubricants
Extend lubrication interval
Higher performance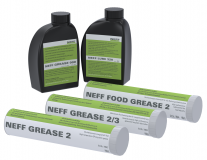 ---
NEFF GREASE 2
The high temperature grease NEFF GREASE 2 (400g cartridge) has a high mechanical stability. It is particularly suitable for trapezoidal screw drives and generally for sliding screw drives such as the NEFF M-TEG telescopic threads. It is also used to lubricate the worm gearing in the gear boxes of the M/J and C-series screw jacks. It was developed especially for extreme environmental influences such as humidity (hot or cold) and for use in aggressive atmospheres. Remarkable is the good lubricating effect at low speeds and during start-up curves.
NEFF GREASE 2/3
NEFF GREASE 2/3 (400g cartridge) is a high performance grease for long-term lubrication of ball screws. The strongly adhering synthetic grease containing Teflon® has been specially designed for applications with higher dynamic loads and scores points for its excellent wear and corrosion protection and extended lubrication intervals.
NEFF FOOD GREASE 2
NEFF offers the grease NEFF FOOD GREASE 2 (400g cartridge) especially for use in the food and pharmaceutical industries. NEFF FOOD GREASE 2 is universally applicable for ball screws as well as for trapezoidal screws and screw jacks. The grease meets the requirements of DIN V 10517. Suitable for use in applications with occasional food contact (class NSF-H1).
NEFF GREASE 000
The high temperature fluid grease NEFF GREASE 000 (500ml bottle) increases the performance of the worm gearing on C-Series screw jacks. The special Extreme Pressure (EP) additives ensure a high pressure absorption capacity and good wear protection. NEFF GREASE 000 is water resistant, has optimized corrosion properties and is ideal for use with centralized lubrication systems.
NEFF LUBE 320
The NEFF LUBE 320 (500ml bottle) completes the lubricating oil range at NEFF. It is an optimized gear oil for high-speed spur, bevel and worm gears. Accordingly, it is used in the high-performance worm gear screw jacks of the MH series, the high-speed screw jacks of the G series and the bevel gear boxes of the NA series.
The high-pressure industrial gear oil has a very good pressure absorption capacity even under strongly varying loads. NEFF LUBE 320 is a zinc-free oil. In addition to the very high wear protection it offers maximum security against pitting and pitting formation. The very good aging stability and the high thermal load capacity as well as the good demulsibility are also to be emphasized. The product is neutral towards the usual sealing materials and is compatible with non-ferrous and bearing metals.