NEFF G-R
Screw jack
Spiral toothed bevel gear, rotating screw
Lifting capacities of 5 to 90 kN
Ingoing speed up to 3000 min-1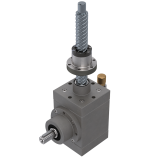 ---
NEFF (type G-R) quick lifting screw jack with axial or rotating screw for lifting capacities of 15 to 90 kN with spiral-toothed bevel gear for a high efficiency and a long lifespan. The NEFF G-R quick lifting screw jack is used in high dynamic and high duty cycles.
Construction forms NEFF G-series screw jack
Type R : Standing rotating screw
Trapezoidal spindle or ballscrew
Features NEFF G-series screw jack
3 sizes with lifting capacities of 15 to 90 kN
High drive-motor speed up to 3.000 rpm
Self-locking trapezoidal screw
Separate lubrication circuits
trapezoidal screw with grease-lubrication and bevel gears with oil-splash lubrication
Bevel gear pairs in two ratio steps (2:1 and 3:1 depending on requirement)
Gearing case-hardened and ground
NEFF lifting screw jack (type G-R) are also available with accessories such as couplings, connecting shafts and drives for your complete lifting system.