NEFF C-VK
Screw jack
Lifting screw jack, axial screw
Anti rotation by sliding block in tube
Lifting capacities of 5 to 500 kN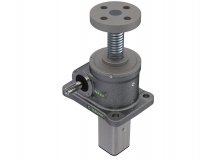 ---
NEFF screw jack (type C-VK) with axial screw for lifting capacities of 5 to 500 kN. Classical housing form made of spheroidal graphite iron. The robust C-series screw jack is used anywhere where high loads have to be positioned and lifted accurately at medium duty cycles and moderate lifting speed.
Construction forms NEFF screw jack C-VK
Type C-VK : Non-rotating moving screw
Anti twist device assembled in the square type protection tube
Features NEFF screw jack C-VK
4 sizes with lifting capacities of 5 to 500 kN
Drive-motor speed of up to 1.500 rpm
Self-locking trapezoidal screw
Grease-lubricated model
Worm gear pairs in two ratio steps (normal "H" and slow "L")
Worm-drive shaft case-hardened and ground
Application examples C-VK
Lifting systems
Height and inclination adjustment indoor running track
Theatre stages
Test rig
NEFF screw jacks (type C-VK) are also available with accessories such as couplings, connecting shafts and drives for your complete lifting system.