NEFF M-TEG
Screw jack, Spindle
Combination up to 7 spindles
Maximum lifting force 15kN
Stroke up to 6000mm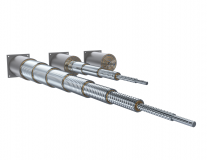 ---
The M-TEG multi-stage telescopic screw drives from NEFF rise from extrem compact installation dimension to impressive
lifting heights. With up to 7 screw stages the user can combine very different load ranges and installation conditions.
Out of the standard connection for screw bearing, the NEFF screw jacks of series M, C or G can be easily adapted.
The high pitch of the thread profile, achieving high efficiencies. Special designs, special sizes and special materials
are available on request.