Hans van Seggelen at ease with retirement thanks to good succession
Date: 15 March 2016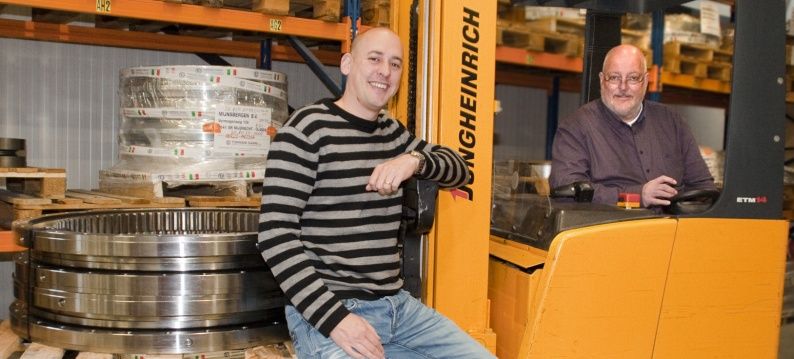 It is March 13th 2016 while writing this article, or actually nowadays "blog". The goal is to inform our clients and suppliers that Hans van Seggelen will soon retire. And as it turns out ...... Hans has joined ATB Automation (formerly Mijnsbergen) exactly 44 years ago on March 13th 1972!! Certainly worthwhile to mention in the year 2016.
44 year career
Hans started his career as an assistant order administration and after he commenced the "MTS" (EN: UTS) evening studies, he continued as representative / technical-commercial consultant as from 01.01.1975. Hans his passion lays in the gearboxes, gearmotors and slewing ring bearings. Over the years he has built a nice product range with the core manufacturers Torriani, Tandler, Stöber, ADE, Faro, Hartman & König and IBS.
#constitutions
Ultimately, he increasingly developed this product range moreover from a back office function, to enable the next generation of sales engineers to make her entrance. ... And as it happens I am this next generation :-). Along with me, within the company many have had a "knowledge boost" by Hans. Never too much, but always that what was needed to learn all the details in practice. In the present era knowledge transfer is your right to exist, but has already been part our #ATBAutomation #constitutions since its inception.
Knowledge transfer
The loss of the knowledge, experience and stability of Hans has prompted us to search for a successor early on. Hans had to realise a knowledge transfer once more, but this is not easy. We started a search for "the impossible", knowing that this would be a difficult task. Through social media and strong regional uproar we found Rico Godfried. Rico lives in Vinkeveen (commuting is theoretically by bike :-)), has technical sales experience, is eager to learn and very active. Since September 2015 he has joined ATB Automation and attended an internal and external training program. Rico's first blog is already on our website. I will not beat around the bush, ..... I am very proud of Rico and his acquired knowledge of products and applications. Hij fits perfectly in the ATB Automation culture. No-nonsense and optimal meeting customers in their needs.
What now?
Hans will officially retire on June 8th 2016.
In march and April he will be working on Tuesday, Wednesday and Thursday.
And in May and June only on Tuesday and Thursday.
- Hans is available via hans@atbautomation.eu and +31 (0)297 380553.
- Rico is already full-time operational via rico@atbautomation.eu and +31 (0)297 380569.
The earned retirement of Hans will of course not pass unnoticed in-house. So, if you hear the telephone answerer on a Friday in the coming period, slightly earlier than usual ....... we are thanking Hans for all his assistance over the past 44 years while enjoying a good drink and a nice dinner.
Hans, thank you and the applause is for you!
---
---
0 comments