6 advantages of the unique Exlar roller screw servo actuator
Date: 27 October 2016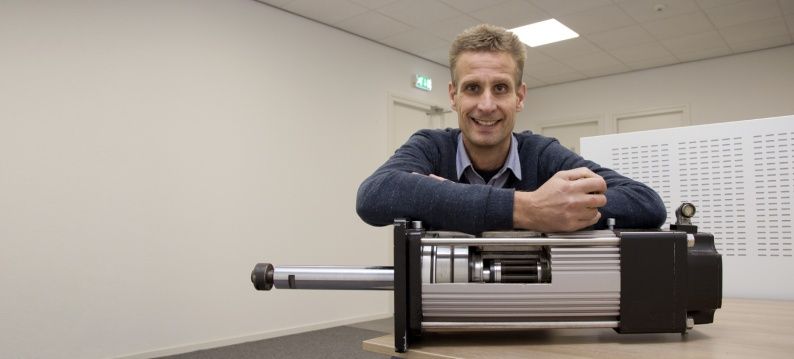 Since 2011 I have been working at ATB Automation. From the start I was positively surprised and enthousiastic about the many products and solution within the delivery program. Choosing one in particular, I'd like to highlight the roller screw actuator of Exlar with it's many advantages.
25 years ago Exlar developped the patented electric servo actuator with inverterd roller screw. A revolutionary development, with the roller screw spindel integrated in the rotor of the servomotor. Compared to the existing solutions, like pneumatic and hydraulic actuators or actuators with ball screw, the roller screw solution of Exlar has brought many advantages upon the market:
High capacity, quality and flexibility
The Exlar roller screw actuator is an electric servo drive with position feedback and closed position loop. Compared to a hydraulic or a pneumatic drive, the Exlar actuator can be controlled better and more precise for positioning. As a result a higher and better output of a machine. Furthermore, the actuator can position at any given position, resulting in fast and flexible switching of position, i.e. product.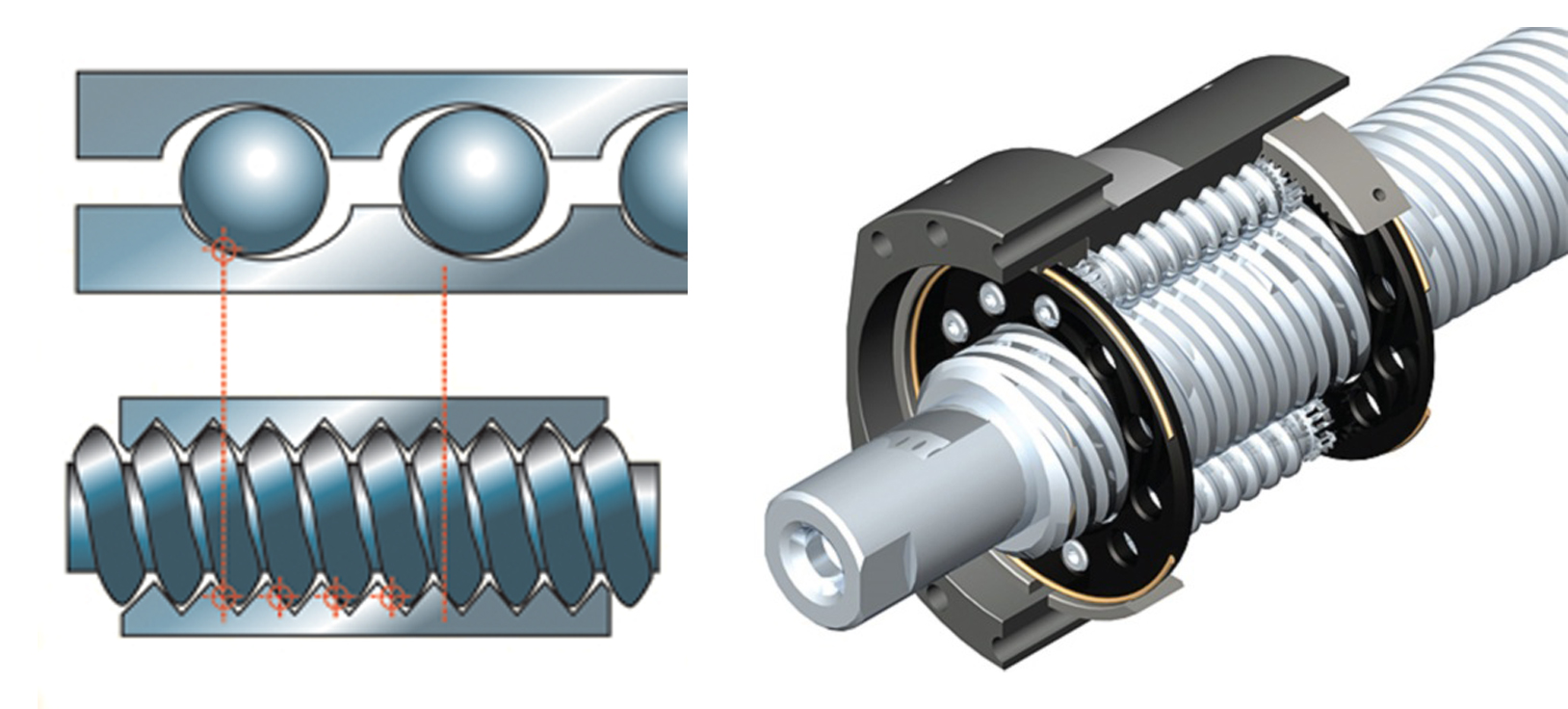 Long lifetime roller screw versus a ball screw
The contact surface of the roller screw is larger than with a ball screw. The dynamic load rating is thus two to three times larger. The actuators with roller screw therefore have a lifespan up to 10 to 15 times longer than actuators with ball screw.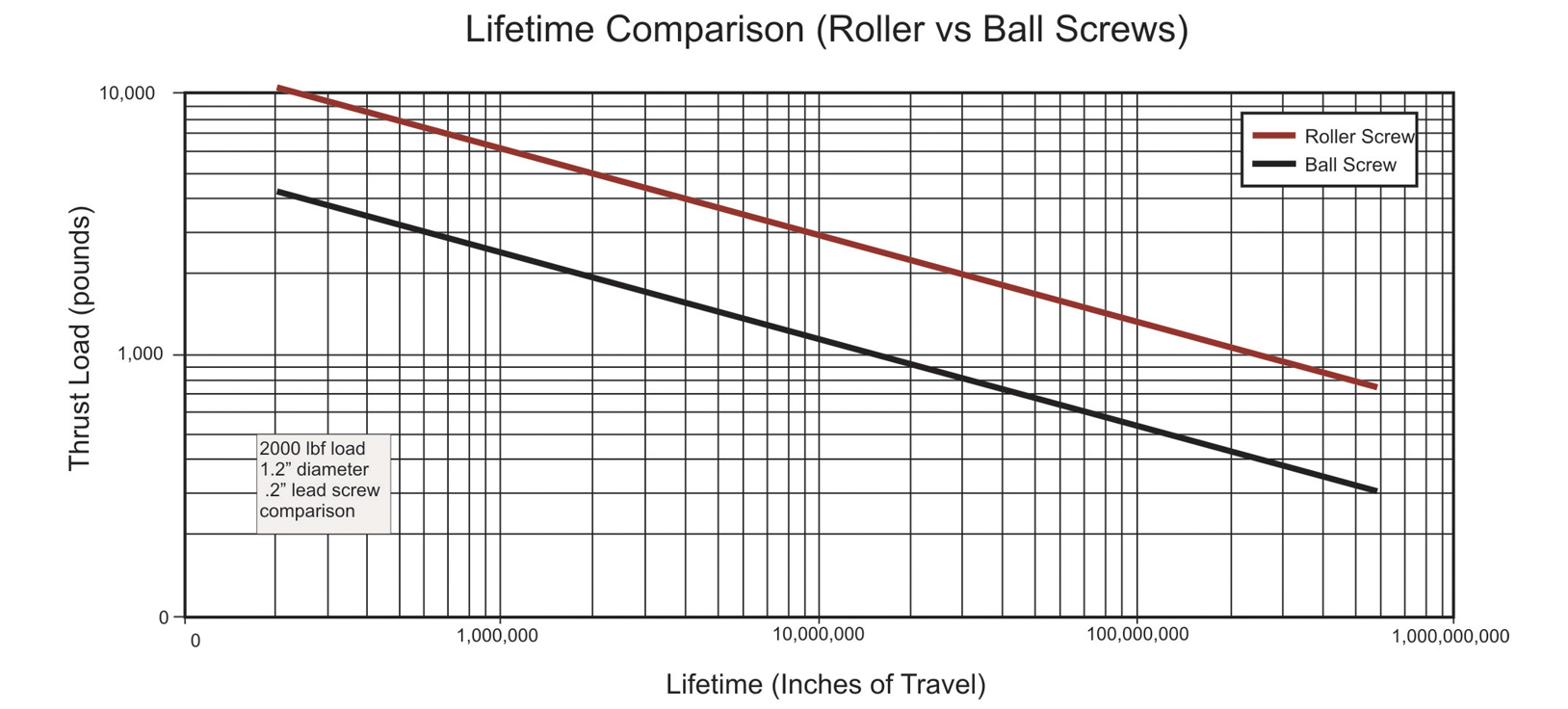 10 to 15 time longer lifespan thanks to larger contact surface of the roller screw.


Space saving solution with inverter roller screw in servomotor
Exlar developped this special patented constructions, where the roller screw is integrated into the rotor of the servomotor. The roller screw converts the rotative motion directly into a powerfull linear motion. A much more compact construction than actuators with a parallel or in-line mounted motor.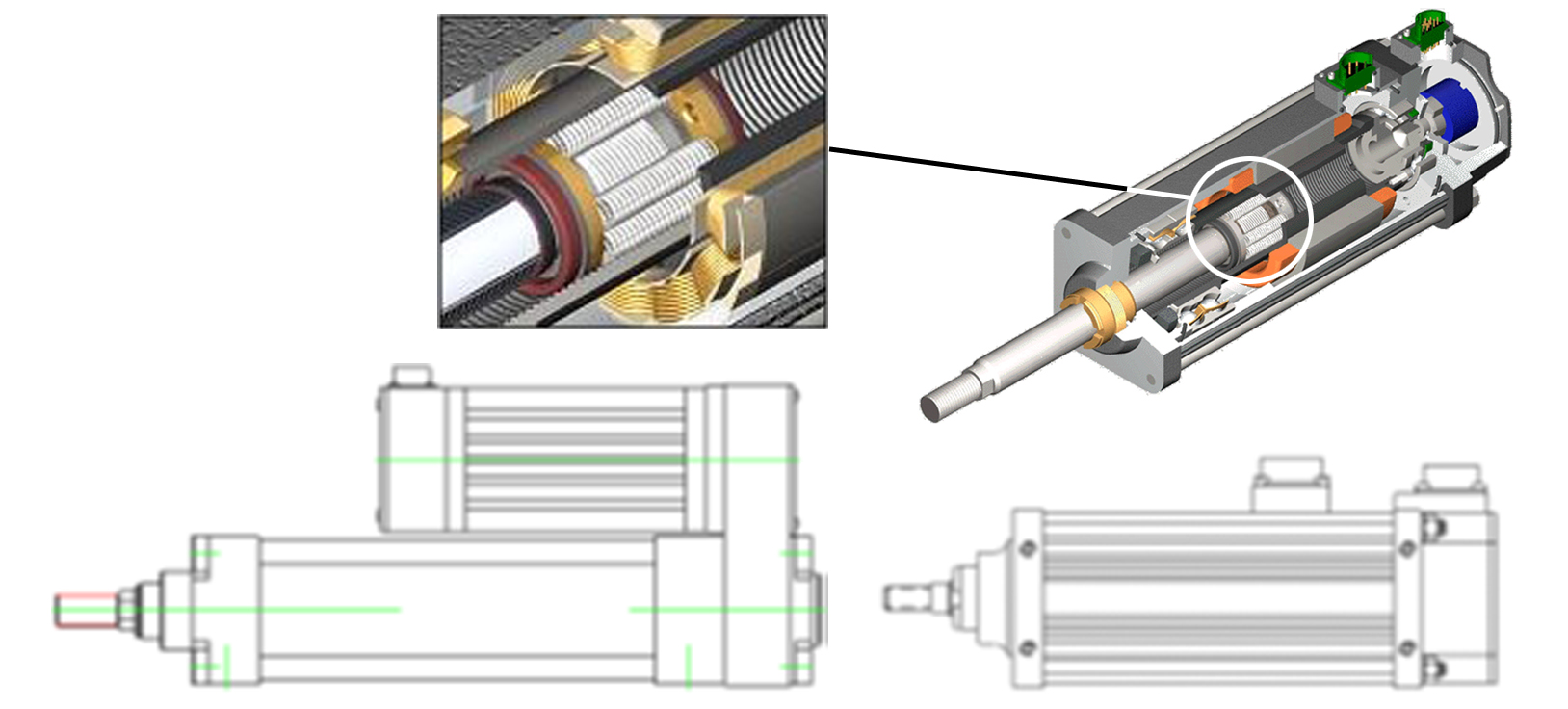 Much more compact construction thanks to the integrated servomotor with roller screw in the actuator.


Low energy consumption versus pneumatic or hydraulic
Though the roller screw actuator has a higher initial cost price than pneumatic or hydraulic drives, they offer considerable cost savings in the long term.
An electric drive only uses power under load, whereas a pneumatic or hydraulic drive uses constant energy.
Comparable realistic situations have shown that the energy consumption can come down with a factor 15 lager.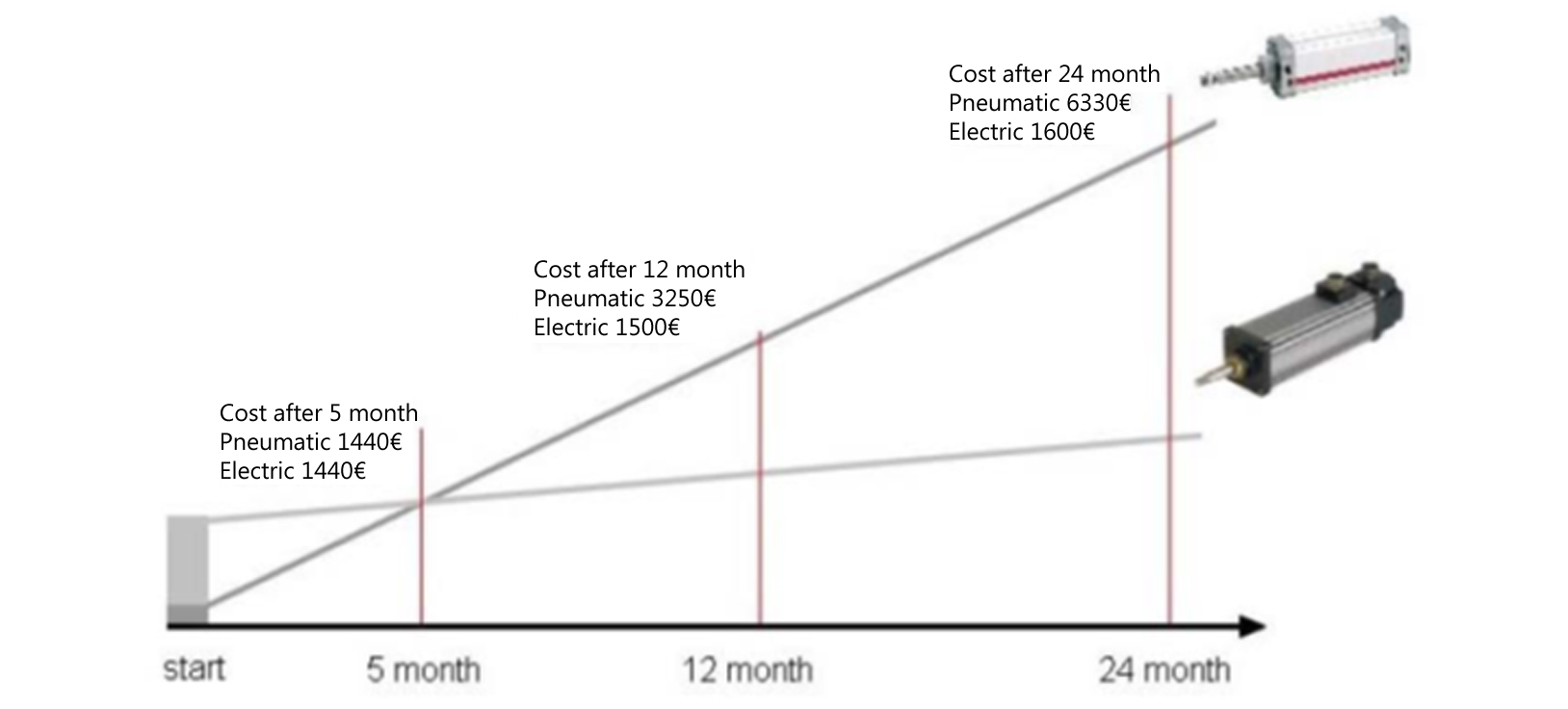 Better for the environment
The environment of course benefits from a lower energy usage. But also disadvantages like oil leakage or noise nuisance through air in a production environment belongs to the past, when using Exlar roller screw servo actuators.
Exlar always has a solution for any type of servo drive
The Exlar roller screw actuator is available with encoder or resolver for any type and brand servo drive. Exlar tests the actuator for the most common drives worldwide. The actuators are supplied with connectors according to supplier specification of the drive, suitable for standard cabling.
And for one-axis positioning applications Exlar has launched the Tritex actuators, a complete roller screw actuator with integrated drive, where can be positioned point to point throuhg digital I/O or a bussystem.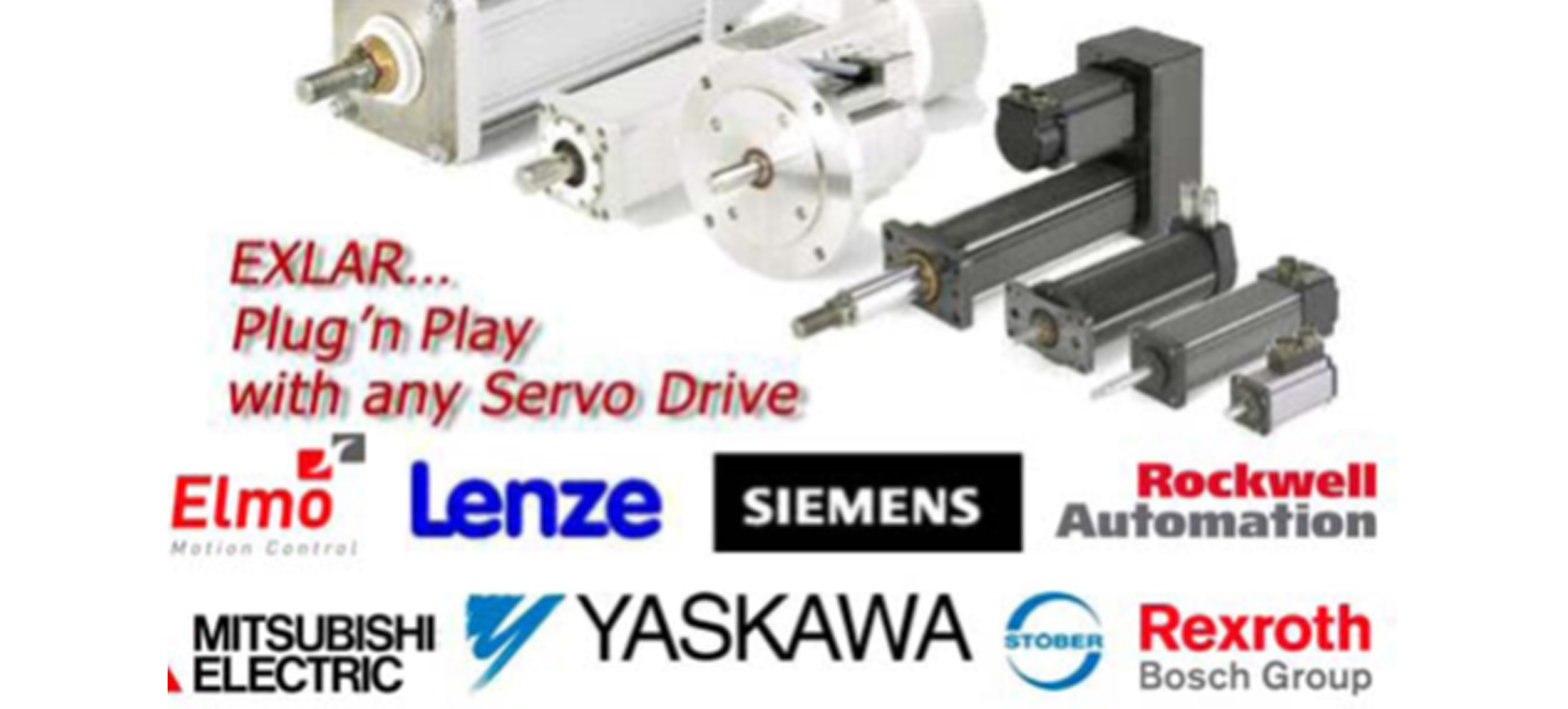 Markets and applications
As a result of these advantages, the Exlar roller screw actuators have been deployed in many markets and applicaitons such as:
Sheet metal working machines
Press and injection moulding machines
Dosering and volumatric filling of liquids
Valve adjustment
Continuous web guiding printing paper
Interested in seeing and experiencing an Exlar roller screw actuator with your own eyes and hands?
Call or mail me for an appointment.
---
---
0 comments