Rosta stainless steel oscillating mounting new edition
Date: 19 May 2016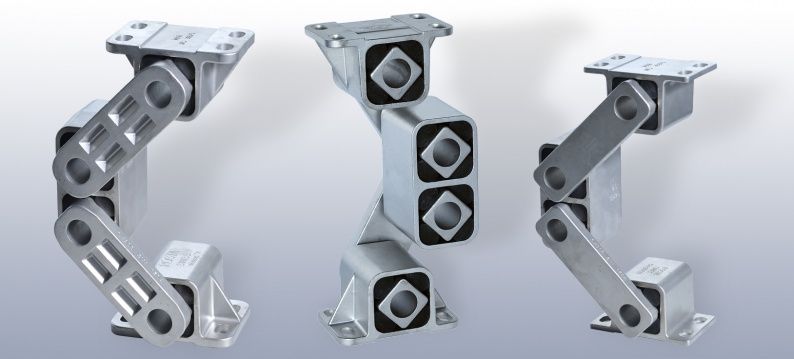 The Rosta AB oscillating mountings are the ideal solution for vibrating sieves and shaking conveyors. The simple mounting, the optimal damping of all vibrations to the "fixed world" and the perfect transmission to the de vibrating feeder or gyratory screen have already convinced many engineers.
Optimal cleaning
In the food processing industry Rosta ABI (I=INOX) oscillating mounting have been applied already for many years. Recently the (full range) new generation Rosta ABI have been introduced. This concerns the ABI 15, ABI 27, ABI 38, ABI 45, ABI 50 and ABI 50-2. This series is a fully cast version, equivalent sized to the standard AB-series. The arms are provided with holes, allowing an even more optimal cleaning.
Higher admissible forces
In addition, Rosta also launched the new ABI HD generation. Similar frame sizes as the AB and ABI elements, with the additional advantage of higher admissible forces. As a result, it may be possible to include fewer elements in the construction for certain applications.
Optimalisation and efficiency
For existing applications we can advise you on all optimisation opportunities. For new applications, we will explore all options for you in order to achieve the highest possible efficiency.
Advice or quotaion for oscillating mountings?
Call or mail André Hop
+31 297 38 05 59
+32 2 334 99 99