Rosta ABI
Stainless steel oscillating mounting
Stainless steel oscillating mounting
Loads up to 10,000 N per unit
Natural frequencies approx. 2 – 3 Hz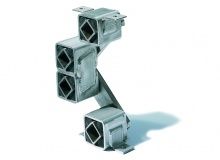 ---
Rosta ABI stainless steel oscillating mounting for free oscillating systems. The ABI oscillating unit is made from stainless steel for the food and pharmaceutical industry. The Rosta ABI oscillating units isolates the vibration and has a low residual force transmission. Rosta oscillating mountings has proven long life time. Examples of more that 20 years at 24 hours operation a day are available.
Advantages free oscillating mountings.
Easy to install
Maintenance free
Low wear in operation
Screening and separating operations at the same time
4 functions of Rosta ABI multifunctional oscillating units
Support static load
Forming an oscillating system in which the dynamic spring stiffness is determining the resonance drive-capacity
Dictating the direction of oscillation
Isolation of vibration and structure-borne noise
Rosta ABI oscillating mounting are excellent for several free oscillating systems
One mass system circular motion screen
One mass system linear motion screen
Two mass system with counter frame
The maximum load per standard ABI oscillating mounting is 10,000 N, but there are other mountings up to 20,000 N per unit available.
Examples of applications are conveyers, sifting machines, etc.