ADE electro mechanical actuators
Date: 1 March 2009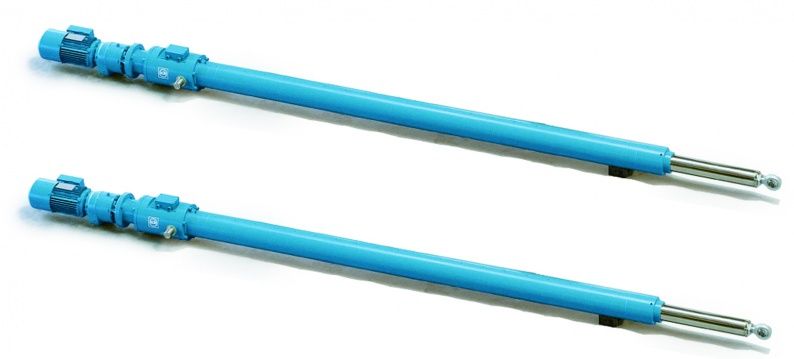 Electro-mechanical spindles repress hydraulics at weirs and sluices.
With ADE-Werk Mijnsbergen offers Electromechanical auger systems of 50-1500 kN, which meet the new requirements for bridges, sluices and weirs.
Public services have increasing demands on equipment that can be harmful to our environment. In Germany for example sluices and weirs are already converted from hydraulic to a electro-mechanical jacking system for twenty years. Also in France, for some years more and more installations are converted.
With ADE-WERK Mijnsbergen offers the solutions that perfectly meets the new requirements. Without hydraulics and thus a simpler concept with virtually no maintenance.
Spindle driven jack cylinder
ADE-WERK GmbH produces spindle driven jack cylinders in special and customer-specific designs for approximately 50 years. The extensive experience in this field of drive technology, is the basis for the success of the ADE elektromechanical cylinder as a drive concept for sluices and weirs since the first installation twenty years ago. ADE-WERK is market leader in the field of special large cylinders for lock- and bridgetechnology.
Several successful projects have been realized with ADE electro spindles:
Locks for ship navigation, locks for pleasure yachts, trap gates and segmental gates.
Adjustable valves in sluice gates.
Miscellaneous weir gates.
Drives for bridge actuation, bridge locking mechanisms, etc.
Weir damms.
Product features:
The ADE electro cylinders are equipped with an integrated spring package for shock absorption of axial loads.
The piston rod, not electrically conductive, can be supplied with a special ceramic coating for optimal protection with extreme outdoor environment.
All exterior bare parts are stainless steel and / or high chrome.
Class IP68, with special preservation and an manual emergency control.
The cilinders are optional sypplied including limit switches and control.