Jakob metal bellow couplings with a standardized flange connection
Date: 13 January 2012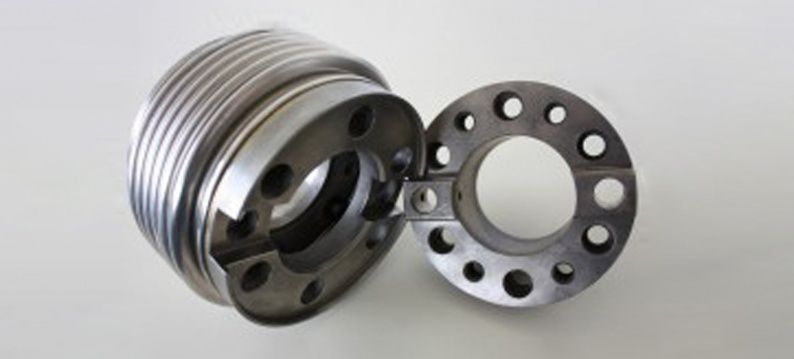 Jakob Antriebstechnik is developing a metal bellow coupling with a standardized flange connection. For many years metal bellowcouplings have been the gold standard when it comes to connecting two opposing shafts. Due to the permanently improving performance parameters, it is only natural that the demands in the connecting systems of the couplings are increasing, too. In their endeavor to meet the industry's requirements in high power density and maximum torsion stiffness, manufacturers of engines and gear units use a standardized flange connection on the output side more and more frequently. Up to now, however, customers had to fall back on complicated or immature coupling solutions to be able to use this option at all.
Jakob Antriebstechnik GmbH from Kleinwallstadt has responded to the market's demands by offering an innovative production series of servo couplings with a flange connection on one side. The models KPE and KPP-F developed by the experts from Lower Franconia allow connecting gear units and engines with a mechanic interface, standardized in accordance with DIN EN ISO 9409-1.
Suitable for direct mounting to the Stöber planetary gearboxes PH en PHA.
Both versions guarantee the production-related advantages which are so typical for metal bellow servo couplings such as zero backlash, a high torsion stiffness, the ability to compensate misalignments as well as a high operational torque.
The new servo couplings in Jakob's portfolio can be recommended for a wide range of possible applications. The advantages of the KPE series with its two-piece flange connection are its compact design and easy assembly while the plug-in version KPP-F shows off its strengths in installation spots which are difficult to access.
The two new servo couplings are suitable for pitch circle diameters of the standard flange from 31.5 to 160 millimetres and can thus be used for a large number of purposes. As usual, Jakob Antriebstechnik has employed high-quality materials only: the flangeand the clamping ring hub are made of nitrocarburized quenched and tempered steel; the clamping hub and the groove ring for their parts consist of high-strength aluminium. Stainless steel which easily sustains temperatures of up to 300 degrees C has been used for the bellow. The beading press-in method which Jakob developed and patented in 1974 guarantees a perfect, backlash-free connection of the metal bellows and the hubs. For the steel and stainless steel hubs which are deployed in all models with a declared value nominal torque of 1,600 Nm, a special plasma welding procedure is used to connect the bellow. That way, JakobAntriebstechnik does justice to its own uncompromising demands in product quality.