Feeding of voltage cables with Exlar electric actuators
Date: 17 October 2013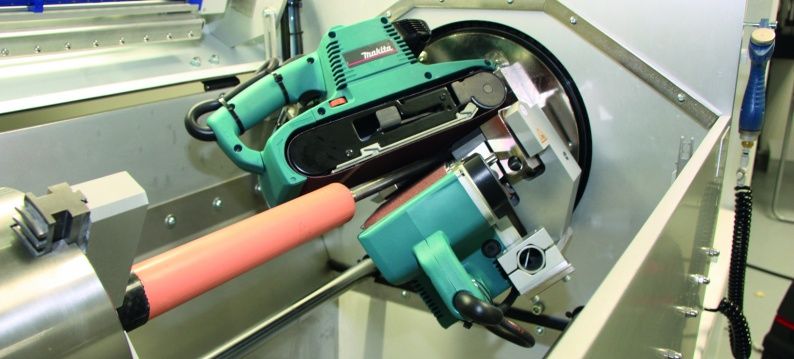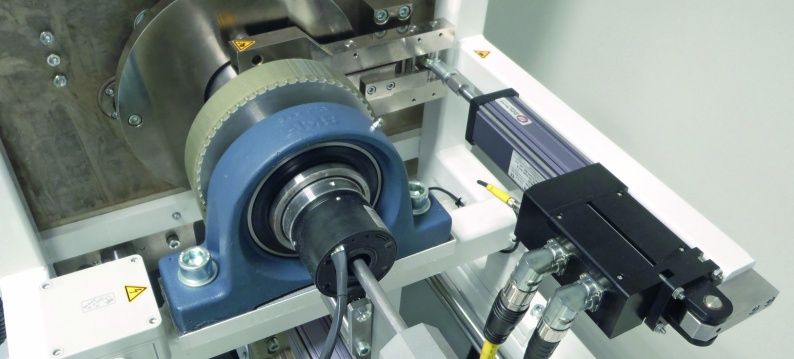 Romédes Specials from Lichtenvoorde has designed a belt sander on behalf of Claymount Assemblies in Dinxperlo. The machine is used for the production of " High Voltage Cables'. In the belt sander, the ends of the insulation sheathing of power cables with a diameter of Ø20 to Ø55mm are sanded in points. The sanders and the main shaft rotate, while the cable is fed into the machine. For the drives Romedes asked support from Mijnsbergen. The solution for this application was found in Exlar electric linear actuators.
Accurate positioning
Mr Berendsen of Romédes Specials explains: "We compared some options of electric drives together with Mijnsbergen. It soon became clear that we would manage the required accuracy with simple cylinders. The Exlar electric linear actuators, on the other hand, are accurately adjustable. And that accuracy is required for the positioning and the limit load for shutting off. If the force on the sanders becomes too high, for example because the belt is worn, the actuator switches off and stops the movement immediately. This protects the machine from damage."
Benefits servo actuator
The Exlar actuators are servo driven, making them much more flexible to set up and program than pneumatic cylinders. A higher-level controller with Modbus takes on the communication. The unique integrated roller screw principle provides a powerful and robust actuator, with a greatly increased lifespan (up to 15 times longer) compared to alternative ballscrews.
Linear motion with high forces
The linear motion of the actuator has a stroke of 200-220 mm, forces up to 500N and an adjustable speed of 0.2 - 3 mm/s. "The electric actuators from Exlar also accomplish movements with very low speeds (< 0.2 mm/sec) and provide high forces," illustrates Mr. Berendsen.
Angle adjustment sanders
The drive for the angle adjustment of the belt sanders has a stroke of 5-15 mm with forces of 200 - 300N, and a required accuracy of 0.05 to 0.1 mm. The dirty environment is overcome because the transmission has sealed pushrods.
Berendsen is impressed with the service of Mijnsbergen: "We are very satisfied with the process with them. After commissioning the Exlar actuators run optimal. They give good and personal advice and continuously think along."
>> To product information Exlar Tritex electric linear actuators
For questions about electric actuators or potential applications, please contact us.