TV debut Mijnsbergen: "Just be Sustainable"
Date: 26 August 2015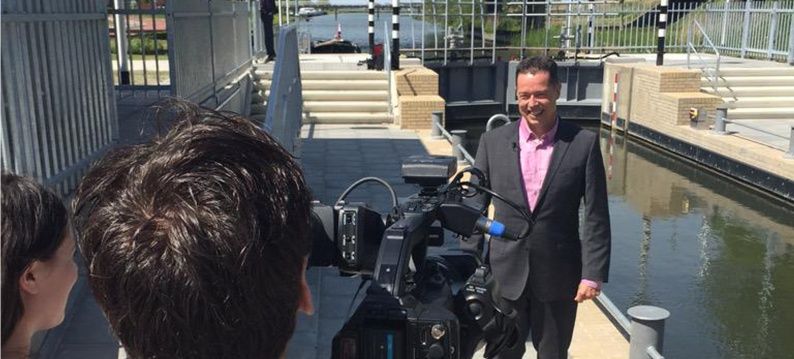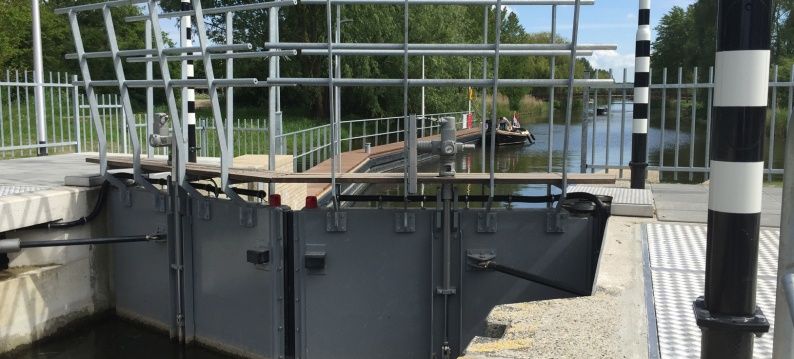 RTL7 "Doe Maar Duurzaam" visits Beatrix Sluis in Almere with sustainable lock actuators
For several years Mijnsbergen (NL) and ATB Automation (BE) supply the environmentally friendly ADE actuators for bridges, locks and weirs. After completion of many successful projects these past years these electromechanical solutions for waterways can no longer be dismissed. The focus with regard to the environmental aspect has certainly been noticed, given that Mijnsbergen has been approached for a television item on the Dutch TV station RTL 7. The recently completed locks at Almere is the perfect location to demonstrate the total solution.
New waterway: "Blue axis"
In recent months, the two locks at Almere were substantially renovated resulting in the "Blue axis" (Blauwe as). This waterway runs from the Gooimeer, via Almere Centrum to the Markermeer. The "Krommewetering Sluis" (lock) in Almere Haven is replaced by a new lock with greater capacity. In addition, the "Beatrix Sluis" (lock) is now running with a brand new operating system and new lock gates. Both locks facilitated with new docks. In collaboration with the province of Flevoland (Provincie Flevoland) and with a contribution from the European Fund for Regional Development of the European Union, Almere has thus gained a stunning new waterway.
Drives lock gates and lock paddles
Mijnsbergen has been involved in the engineering from the beginning. The ADE actuators are applied both for operating the lock gates as well as the lock paddles. The project proceeded smoothly and installation and commissioning went as planned. Because the control is entirely electric, all necessary movements can be balanced perfectly accurate. Since there is no hydraulics present, oil can never be spilled into the water. The lock gates are driven by a 1kW motor and the lock paddles by a 0,4kW motor. This is the maximum available power but will never be used in practice. As a consequence it is also extremely energy efficient. Hence "Just be Sustainable"!
In the third episode of the RTL 7 TV program "Doe Maar Duurzaam" Olaf van de Ven and Robert Vermoolen tell about the ADE electromechanical drives in the Beatrix Sluis and Kromme Weteringsluis in Almere.