Mowing machine ditches rotates on Torriani slewing ring bearing
Date: 14 February 2017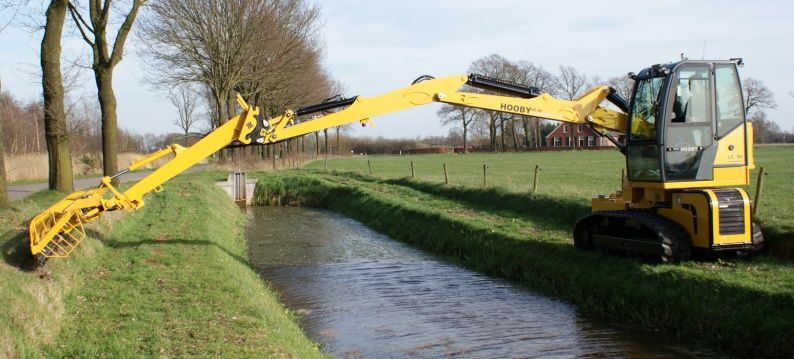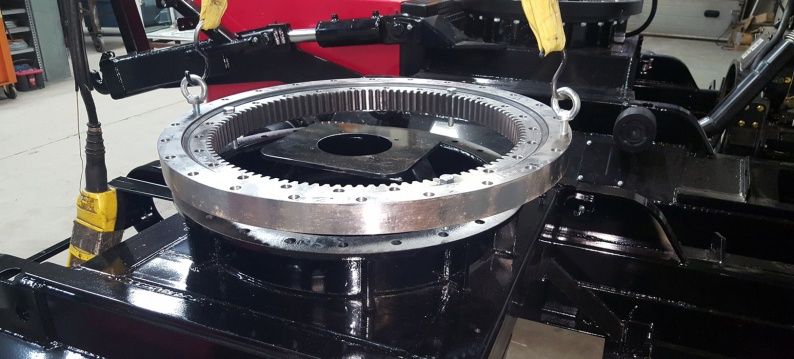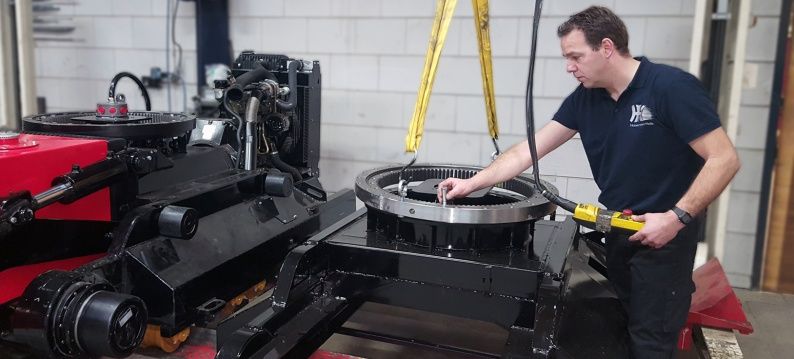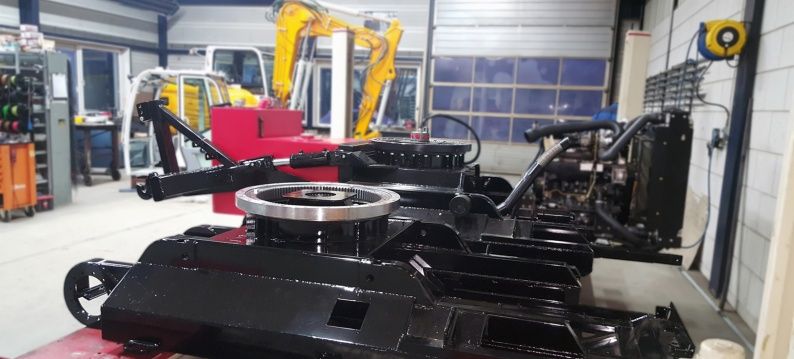 The special Hooby narrow gauge excavator of Hobelman in Halle was developed for mowing ditches. The upper carriage which is mounted on the undercarriage with a Torriani slewing ring bearing, is equipped with a boom length of 8 meters and a 5 meter cutter basket. Therefore the machine has an enormous cutting capacity. The machine is designed for ditch maintenance by district water boards in the Netherlands for the cleaning of the waterways. With a width of only 1.60 m it can be used in hard to reach areas where space is limited.
High tilting moments
To unload the grass clippings behind mower the upper carriage is 360 degrees rotatable with with a Torriani slewing ring bearing installed on the chassis. The slewing ring bearing captures the high tilting moments on the superstructure of the long boom and large cutter basket. This unit must be strong for the attachment to be sturdy at high tilting moments.
A slewing ring bearing with internal has been chosen, because it offers a good protection of the pinion. The slewing ring bearing is equipped with hardened career brackets for longer life.
Protection soil life
The Hooby narrow gauge excavator is unique as the cutter basket remains above the bottom of the watercourse automatically while mowing. The waterway soil is thus spared and barely touched. There is hardly any sludge on the sideways. The mowing machine is equipped with various sensors and a microcontroller, in conjunction with electrically operated valve blocks, it is possible to automatically operate the booms. The driver obviously remains needed, but the machine automatically monitors and corrects the movements of the booms.
Particularly the east of the Netherlands makes good use of the narrow gauge excavator, because there are many small cutting paths. But also in urban areas often narrow areas along railway lines and greenhouses occur.