New high precision IAI linear actuators with servomotor
Date: 30 January 2012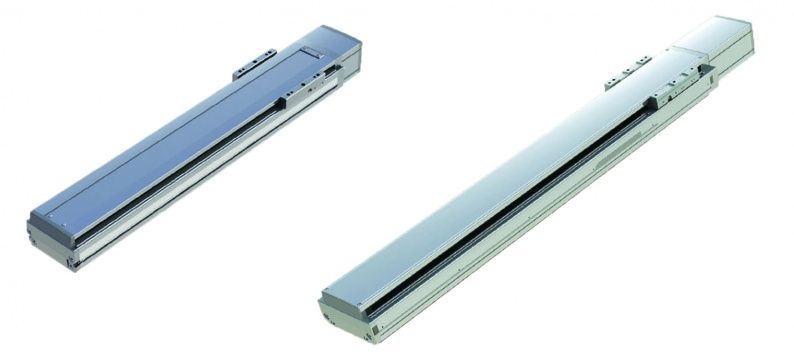 The new linear axes series ISB/ISPB the IntelligentActuator product line from IAI, are ready-to-install ball screw driven linearactuator, with built-in motion guide system and servo motor. Repeatability accuracy of 0.01 mm (ISB series) and 0.005 mm for thehigh precision execution (ISPB series).
Aluminium and rigid steel profiles
The universal ISB series based on aluminium profiles with a compact rectangular cross section is available in three model sizes S, M and L (90, 120 and 150 mm wide). The feed force of the axes ranges from 53 to 684 N for the large L series, the maximum stroke is specified as 2500 mm. The SSPA series has an integrated construction with a highly rigid steel profile. Similar to the other linearaxes with ball screw, the ground tracks of the guide rail are situated on the inner surfaces of the U-shaped profile. As a result the axis has an extremely compact construction and is very rigid.
Technical specifications
The linear axes with 230 VAC servo motors now traverse with a top speed of 2.5 m/s, an increase of 80 %, and accelerate with a maximum permissible 1.2 G. The permanent lubrication, now a standard feature, together with simplified service options for the spindle and guide rail, facilitate a positioning repeatability of down to ± 5 µm. The significantly improved maximum loads of 55/110/120 kg compared to the previous ISA-S/M/L series has been achieved amongst other things through a more stable construction and a longer slider.
All axes models can be fitted with an optional brake, bead chain system, creep sensor and limit switch and configured as highstraightness precision specification. The corresponding 1 to 6 axes program controllers of the SEL series with CE label and RoHS conformity cover a power range from 60 to 2400 W in eight stages.
The tailor made system solutions can also be designed with special drives such as timing belt (IF series) or rotating nut on a fixed ball screw (NS series). In addition, all IntelligentActuator linear robots with a modular system can also be combined to form Cartesian robots with up to six axes.
Dustproof and cleanroom versions
For rough environments or for special requirements in respect of precision, simple dustproof or cleanroom (Class 10 - ISO Class 4) use the versions SSPA (with stainless steel frame), ISPB, ISDB and ISDBCR are available.