New: Exlar electromechanical TRITEX II DC actuators
Date: 1 August 2012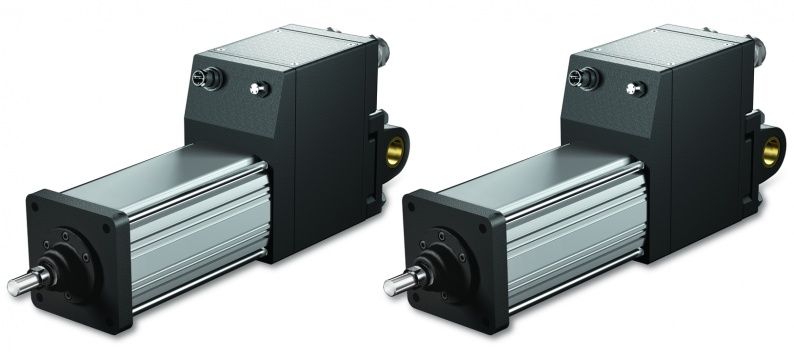 Compact servo actuators for forces up to 4248N continuous with roller screw transmission and integrated positioning drive directly connected to 12-48Vdc.
Mijnsbergen and ATB Automation introduce the new Exlar Tritex II DC powered actuators. The Tritex II DC actuator is a complete solution consisting of an electric actuator with digital positioner, a brushless servo motor and integrated roller screw transmission. Everything is designed in one compact housing (IP54 or IP65) so that no external servo drive and feedback cabling is required.
Peak force to 6 kN
The Tritex II actuator is available in 2 sizes (60 and 75 mm frame) with a peak force up to 6 kN. The stroke length varies from 75 to 450 mm. The maximum speed is 846 mm/s. The backlash of the roller screw transmission is standard less than 0.1 mm.
Extensive I/O capability
The actuator is connected to 12-48Vdc. The Tritex II actuator has a comprehensive I/O capability: 8 digital inputs, 4 digital outputs and an analog input and output. A standard analog Hall sensor is standard present as feedback. For high accuracy applications incremental encoder can optionally be applied. A battery back-up can be used for an absolute position feedback. Power supply and I/O is available via a branching box with cable glands or connectors.
The controller can be programmed and monitored through an RS485 (Modbus RTU) protocol and the supplied software. Standard several control options are available, such as point-to-point control or force control. Also a propotionele control of position, speed or power can be achieved by using the analog input (optionally 4-20mA).
Various metric mounting options
The actuator is available with various mounting options such as metric thread on the front or side, a flange on the front or the back, tighten brackets to the side or rear mounting eye.