Expansion Torriani worm gear slewing rings with tilting moment up to 300 kNm
Date: 22 May 2015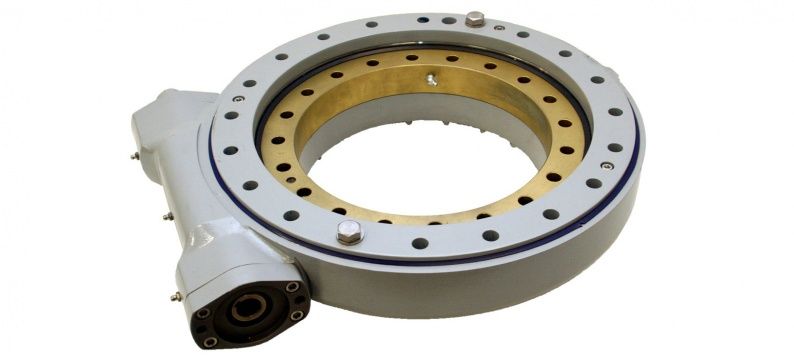 Large worm drive added to the existing range
Besides an extensive range of slewing ring bearings, Torriani also produces its own series of standard worm gear slewing rings. Torriani now added two larger versions worm gear slewing rings to this range. The worm gear slewing rings are used on swiveling wheels, platforms and service cranes. But also in mechanical engineering worm gear slewing rings offer advantages in various constructions.
Closed execution worm drive
The main advantages of the worm drives are the fully closed design and easy installation. Also the (limited) self-locking drive can offer an interesting advantage in some applications.
Slewing ring with worm gear
The Torriani worm gear slewing ring consists of a slewing ring bearing with worm gear and a worm shaft mounted in a sealed housing. The housing is provided with a mounting flange for an electric motor or hydraulic motor with SAE-A flange.
Worm gear slewing ring tilting moment up to 300 kNm
Torriani has expanded the range worm gear slewing rings with the TGE-620-OP-TEC and the TGE-760-OP-TEC. The largest version worm gear slewing ring can withstand a maximum tilting moment of 300 kNm. The maximum axial load is 2,250 kN. An ideal construction for slow speed and heavy structures.
The new types worm gear slewing rings are available immediately.
» Ask us about the possibilities and selection of the right worm gear slewing ring for your application!