Exlar Tritex II elektromechanische actuator
Date: 1 June 2009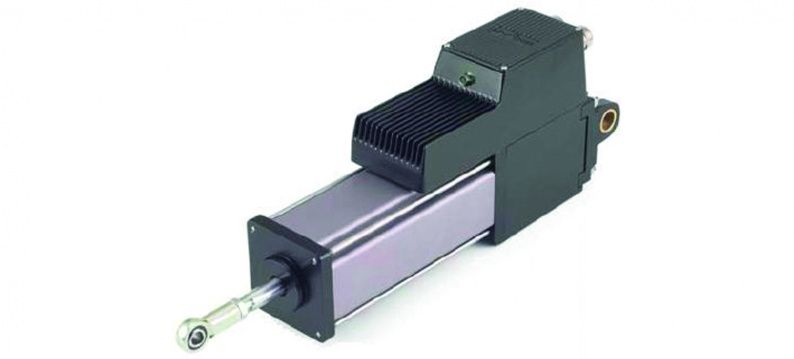 NEW: Exlar electro mechanical TRITEX II actuator, direct on 230 Vac
Compact servo cylinders up to 32 kN with roller screw transmission and integrated positioning control directly connected on 230 Vac.
Mijnsbergen introduces the new Exlar Tritex II actuators. The Tritex II is a complete actuator solution consisting of an electricactuator with digital positioning control, a brushless servo motor and an integrated roller screw transmission. Because everything is designed in a compact housing (IP54 or IP65) no external servo control and feedback cables are required.
Peak force up to 32.8 kN
The Tritex II actuator is available in various sizes (90 and 115 mm frame) with a peak force up to 32.8 kN. The stroke length ranges from 75 to 610 mm. The maximum speed is 950 mm/s at a pitch of 19.05 mm (0.75"). The backlash of the roller screw transmission is standard less than 0.2 mm. With preloaded planetary roller screws this may optionally be reduced.
Extensive I/O capability
The actuator can be connected to the mains (100-240 VAC). Through an RS485 (Modbus) protocol and the included software the positioning control can be programmed and monitored. The Tritex II actuator has an extensive I/O capacity: 8 digital inputs, 4 digital outputs plus an analog input and output. As feedback a standard analog Hall sensor is present. For applications with high accuracy, it is optionally possible to apply an incremental encoder. Connecting the power supply and I/O is possible via a junction box with cable glands or connectors.
Several metric mounting options
The actuator is available with various metrical mounting options such as thread on the front or side, a flange at the front or the back, side trunnion attachmentor or a rod eye on the back.