Trio Motion Technology MXL
Brushless ac-servomotor
Compact servo motors 50W until 1 kW
Stall torque 0,2 to 3,2 Nm
Rated Speeds up to 3000 rpm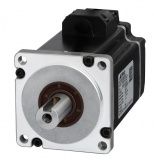 ---
The Trio servo systems are supplied as a complete set, consisting of servo motor, servo controller and cabling.
Compact servomotors with power from 50W to 1.0 kW in three sizes (flange square 40, 60 and 80 mm)
Peak torques 300% relative to rated torque.
Available with 20 bit incremental encoder or 23 bit absolute encoder (using battery)
Optionally with fail-safe brake.