Wanshsin WT
Indexing table
Servo-adapter (50-750W)
Load till 80 kg
Ratio 5, 10 or 18 - 3 arcmin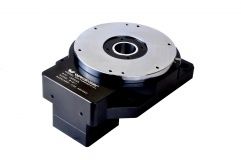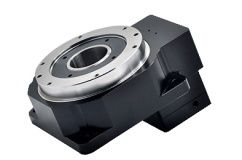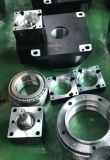 ---
The WT indexing tables have a hollow passage in the middle. The system consists of a single-stage gear unit, a fixed reduction per size and a stainless steel turntable.
Equipped with an adapter with coupling for mounting a servo motor from 50 to 750 Watt on the input side.

WTN-edition:
As a variant on the standard WT-type, the WTN-reductor is available.
The WTN is provided with a different type of bearing, this way it can be loaded with a higher axial load. The diameter of the hollow shaft is larger, a thicker cable or more cables can be implemented.

4 sizes:
WT(N)60: Suitable for 50W or 100W servo motor - reduction 5 or 18
WT100/WTN085: Suitable for 50W or 100W servo motor - reduction 5 or 10
WT(N)130: Suitable for 200W or 400W servo motor - reduction 10 or 18
WT(N)200: Suitable for 750W servo motor - reduction 10 or 18

High accuracy:
Backlash 3 arcmin
Repeat accuracy +/- 15 arcsec
Accurate parallelism and concentricity
High permissible moment