Tandler HL
High performance spiral bevel gearbox
High performance gearbox
Torque up to 2.000 Nm
High permitted overloads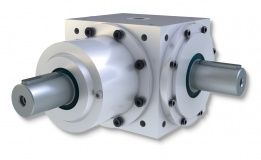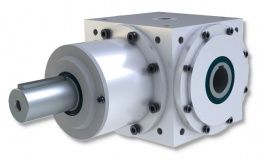 ---
The compact and optimal design and light weight of the Tandler HL high performance spiral bevel gearbox ensure a transmission with high torque up to 2,000 Nm. The same size can transmit up to double the torque. These gearboxes are used where the requirement is for high torque transmission within a small space envelope.
Advantages of Tandler HL gearboxes
Extremly high torque capacity
High permitted overloads for rough service conditions
Bigger hollow shaft diameters, also with keyway
Small space envelope
Executions Tandler HL gearbox
Tandler HL : Solid shaft.
Tandler HL-HW : Hollow shaft with keyway (DIN 6885/3)
Tandler HL-HWS : Hollow shaft with schrink disc.
Features Tandler HL compact spiral bevel gearbox
5 gearbox sizes: 00 - 01, A1 tot C1.
3 gear ratios (axis d1 ingoing):
i = n1:n2 = 1:1, 2:1 en 3:1.
Input speed 3000 min-1.
Permissible max. torque up to 2,000 Nm.
Shaft diameter up to 60 mm (HL) and up to 52 mm (HL-HW and HL-HWS).
Backlash Tandler HL
Gearbox series 00 - C1: Standard 6' (arc minutes); reduced backlash 4'
Depending on the application a backlash of 1' (arc minutes) is possible.
Application examples Tandler spiral bevel gearbox
Printing machines
Food processing
Automotive
Specialty engineering
Tandler is an "understanding" when it comes to quality, diversity, longevity and reliability. High accurate spiral bevel gearboxes thanks to application of the (cyclo)paloïd gear. Proven versatility and value time by being extremely precise with very low backlash and very low transmission error.